The nomination is for being one of the front-runners and leader within intelligent monitoring and control systems for the power distribution industry.
Copenhagen, Denmark, 19 August, 2013 - PowerSense A/S has been nominated for a 2013 Global Cleantech Cluster Association (GCCA) 2013 Later Stage Award in the category of Energy Storage/Smart Grid. The annual awards recognize innovative mid to late-stage cleantech companies around the world who are thriving in the new green economy and show great potential for growth. Winning companies will be announced at the Corporate Cleantech Venture Day on 20 November, 2013, in Lahti, Finland. The full list of 2013 Later Stage Award Nominations can be found here.

PowerSense A/S has been nominated by the Copenhagen Cleantech Cluster in the Energy Storage/Smart Grid category. The nomination is for being one of the front-runners and leader within intelligent monitoring and control systems for the power distribution industry, with a long solid track record of making the grid smarter in a cost-effective way for the power distribution companies.
PowerSense's monitoring and control system for ML/LV distribution is unique because it is retrofittable and modular. The DISCOS® System consists of sensors, control modules and communication and is developed to and with the power companies to meet their special needs. PowerSense is today one of the big players within its field and has the biggest track record of installed retrofit Smart Grid solution to date.
"What differentiates the annual Later Stage Awards is the platform it provides for new technologies to grow," noted Shawn Lesser, Co-Founder of Watershed Capital Group and the GCCA. "Through these awards we help support innovators in the cleantech industry, who are developing their local green economies, by putting them in front of a global audience."
PowerSense A/S is a part of a pool of over 160 nominees. GCCA Head Judge Peter Adriaens (Professor of Entrepreneurship and Strategy at the Zell Lurie Institute for Entrepreneurial Studies, Ross School of Business at the University of Michigan) will use the Keystone Compact™ Method to screen the nominees and narrow them down to the top 3 in each category.
The Top 30 will then be evaluated by over 30 venture capital and cleantech judges who select the winners for the Later Stage Award. With more than $3.5 billion invested in clean technology, the GCCA Judges are devoted to later stage companies who have a proven track record in their home market and have the potential for international growth. They include Generation's Climate Solutions Fund, The Rockefeller Foundation, Dow Venture Capital, BASF Venture Capital and more.
The Best in Class winners will be announced at the Corporate Cleantech Venture Day on 20 November at Sibelius Hall in Lahti, Finland. This event aims to act as a meeting place for cleantech companies looking for investors and corporate partnerships.
PowerSense A/S
PowerSense A/S develops and produces high-quality supervision and control systems for the power distribution industry.
The control systems have been designed to retrofit and digitalize existing power distribution infrastructure in order for modern grid operators to meet the demands of the future power grids with an increasing number of distributed power generations and drastically changed power consumption patterns.
PowerSense A/S was founded on 1 September, 2006, as a spin-off from the Danish power company DONG Energy (dongenergy.dk) and the Danish venture capital fund NES Partners (nespartners.dk).
The PowerSense HQ is located in Copenhagen, Denmark, and PowerSense is today a dominant player on the ANZ, Chinese and European market.
PowerSense A/S has a highly dedicated team of technical and sales professionals with many years of experience in product development, grid operation and international partnerships. Today, PowerSense A/S works with major power companies throughout Europe, the U.S., Asia Pacific and South America.
The fact that PowerSense has now gone from being a start-up company to being a company with a high technical development and production is supported by the awards that have been received in the last couple of years; Danish Cleantech Entrepreneur Of The Year 2009, Cleantech Connect's European Top 20 "Ones to watch" 2009, Global Cleantech Top 100 Company 2010, GP Bullhound Uniqueness of Offering award 2010, GP Bullhound Best Global Potential award 2011 and now The Diploma of the Danish Export Association and His Royal Highness Prince Henrik's Medal of Honour.
For more information, please visit http://www.powersense.com
Featured Product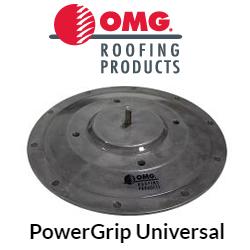 Eliminate Solar Rack Ballast and Reduce Rooftop Material Handling. PowerGrip™ Universal (PGU) is a commercial roof mount system designed to secure solar racks and other equipment to any type of commercial roofing system. PGU provides a secure connection directly to the roof deck or structural members and is designed to reduce or eliminate ballast in solar racking systems, so there's less weight on the roof and less material handling. Made of heavy-duty cast aluminum, PGU units include a base ring which is secured through the roofing cover and into the structural roof deck, and a waterproof top plate.