Appoints New Board Members and Global CEO
ROSEVILLE, Calif.--SPI Solar ("SPI") (SOPW:OTCBB), a vertically integrated photovoltaic ("PV") solar developer, today announced that after a thorough review of business and construction financing conditions in the solar industry that have impacted SPI, the management team and board of directors have determined that it is in the company's best interest to more closely align its business operations with LDK Solar (NYSE:LDK), its parent company. As part of this realignment, the company plans to expand its project business in China while continuing operations in North America and Europe.

"We believe these initiatives will enable improved access to construction financing, provide continuity for SPI's customers and help drive enhanced stockholder value for both companies," said Xiaofeng Peng, chairman of the board of SPI and LDK. "SPI's significant EPC experience will enable LDK to leverage greater international solar industry growth opportunities, particularly in China, while SPI continues to manage and grow its platform of U.S.-based solar energy facilities, which are primarily located in Hawaii and New Jersey at the present time."
New Board Member and Global CEO Appointments:
The company also announced the appointment of two new members of the board of directors to replace Francis Chen and Dennis Wu, who have recently tendered their resignations from the board, as disclosed in SPI's Form 10-Q for the second quarter ended June 30, 2013 and filed with the SEC on August 16, 2013. The new board members are Charlotte Xi, an experienced finance and operations executive, who most recently served as senior vice president of global operations for Canadian Solar, Inc., and Min Xiahou, who joined LDK Solar in May 2011. He serves as senior vice president of LDK Solar and the general manager of LDK Solar's Solar Power System Division. Mr. Xiahou has extensive management experience in corporate strategy, operations, finance and public relations. He has also been appointed global chief executive officer of SPI, effective immediately. Steve Kircher, former chief executive officer and president of SPI since its inception in 2006, will continue to serve as the company's chief strategy officer to focus on corporate strategies and business development.
"I am excited about the opportunity to lead SPI's global business initiatives at a time when solar industry conditions appear to be stabilizing and improving worldwide after experiencing significant headwinds," said Min Xiahou, global chief executive officer of SPI. "We believe that by leveraging the complementary nature of SPI's EPC expertise along with LDK's solar panel and module manufacturing base that we can unlock greater growth and construction financing opportunities while creating vertical operational efficiencies with the goal of improving our financial results."
LDK plans to report its financial results for the second quarter ended June 30, 2013 before the market opens on Tuesday, August 27, 2013 and will provide more details on its global plans for SPI at that time.
About SPI Solar (SOPW:OTCBB):
SPI Solar ("SPI") (Solar Power, Inc.) is a vertically integrated photovoltaic solar developer offering its own brand of high-quality, low-cost distributed generation and utility-scale solar energy facility development services. Through the company's close relationship with LDK Solar, SPI extends the reach of its vertical integration from silicon to system. From project development, to project financing and to post-construction asset management, SPI delivers turnkey world-class photovoltaic solar energy facilities to its business, government and utility customers. For additional information visit: www.spisolar.com.
About LDK Solar (NYSE: LDK):
LDK Solar Co., Ltd. (NYSE: LDK) is a leading vertically integrated manufacturer of photovoltaic (PV) products. LDK Solar manufactures polysilicon, mono and multicrystalline ingots, wafers, cells, modules, systems, power projects and solutions. LDK Solar's headquarters and principal manufacturing facilities are located in Hi-Tech Industrial Park, Xinyu City, Jiangxi Province in the People's Republic of China. LDK Solar's office in the United States is located in Sunnyvale, California. For more information about LDK Solar and its products, please visit www.ldksolar.com.
Featured Product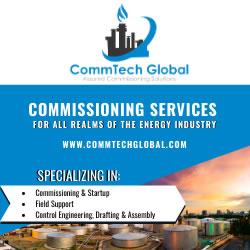 CommTech Global Solutions, LLC, provides professional and reliable commissioning services to customers in all realms of the energy industry. We blend our skills in engineering and technology with innovative business models, offering a complete range of services to assist you for a successful and in compliance operational startup. Consolidation of all our service domains gives our clients a comprehensive set of expertise and far-reaching experience on each project.