Catalina Solar Photovoltaic Generating Facility Will Power Estimated 35,000 Homes
FREDERICK, Md., Aug. 22, 2013 -- Bechtel announced today that the company has completed construction of the Catalina Solar Photovoltaic Generating Facility. The company designed the 110-megawatt alternating-current solar plant located in Southern California's Kern County. The facility will produce enough clean energy to power some 35,000 homes.

"Catalina Solar is a strategic project for EDF Renewable Energy as it represents our largest utility-scale photovoltaic solar plant developed in North America," commented Mark Tholke, Vice President West Region for EDF Renewable Energy. "The project has been an important source of direct and indirect economic activity in Kern County, including over 500 workers on-site during construction. We are pleased to mark the end of construction and commence operation."
Catalina Solar is one of the world's largest photovoltaic facilities. It was built on 900 acres and includes a 7.2-mile (11.6-kilometer) transmission line that connects the facility to the substation.
"The successful completion of this project on behalf of EDF Renewable Energy will help make solar more cost competitive with other sources of energy," said Toby Seay, president of Bechtel's communications, renewables, and transmission business line. "The build of facilities like Catalina will help spur innovation around solar technologies and strengthen our use of clean, renewable power."
Bechtel is a global leader in the design and execution of complex power projects and has been at the forefront of the power industry for more than 60 years. In addition to its work on the Catalina Solar project, the company is building two other solar facilities in California: the Ivanpah Solar Electric Generating Facility, which will be the world's largest concentrating solar thermal power facility when complete, and the California Valley Solar Ranch, one of the world's largest photovoltaic facilities currently under construction.
About Bechtel:
Bechtel is among the most respected engineering, project management, and construction companies in the world. We stand apart for our ability to get the job done rightóno matter how big, how complex, or how remote. Bechtel operates through five global business units that specialize in civil infrastructure; power generation, communications, and transmission; mining and metals; oil, gas, and chemicals; and government services. Since its founding in 1898, Bechtel has worked on more than 22,000 projects in 140 countries on all seven continents. Today, our 53,000 employees team with customers, partners, and suppliers on diverse projects in nearly 50 countries. For more information about Bechtel visit www.bechtel.com
Featured Product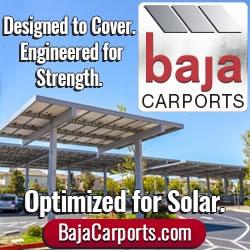 Baja Carports offers an extensive solar support system product line customized to customers' site specifications by in-house engineers, meeting their parking lot coverage, plus optimal PV production needs. Baja's Full Cantilever Tee is often paired with its Semi and Full Cantilever carports to meet live/loads up to 60psf and wind speeds to 160mph. All Baja products are pre-fabricated, bolted connections, pre-galvanized structural steel for fast on-site installation and project aesthetic requirements."