Free second solar panel or 5% discount with purchase of "Sun Runner" unit. SUNRNR of Virginia is supporting Resolve 2B Ready - National Preparedness Month's theme for September 2013.
National Preparedness Month (NPM) is sponsored by the Ready Campaign and is held each September to encourage Americans to take simple steps to prepare for emergencies in their homes, businesses, and communities. A backup emergency power supply is one small step in planning and preparing, but one big step toward overall self-reliance. Having backup electrical power is only one component in pledging to prepare. A SUNRNR can save a refrigerator or freezer load of food and provide power for lights, water pump, fans, microwave, TV, communication, disaster cleanup, etc. But be sure to also prepare by having a plan and essential items such as water, food, first aid kit, tools, medications, copies of important documents. More information, including a full checklist, is available at Ready.gov

The 2013 hurricane season is only half over, just entering its "busy" period, and weather has been just plain odd all over with plenty of related power outages. Dealers have already been given the pricing above so check with them first. Or you may order from the manufacturer by calling 540-271-3403 and mentioning code "NPM13AEM". Factory-direct orders of two or more units to same shipping address receive an extra 10% discount.
Part of SUNRNR of Virginia's mission is to educate regarding power generation, storage, and usage, especially with respect to renewable energy. We also strive to promote preparedness and the use of green, non-fossil-fuel alternatives. When comparing portable solar generator products, there are many numbers to consider. Energy generation, storage, and output each have their own specifications. SUNRNRs are top of the line in all of the above. They have a high-quality, steel chassis for ruggedness and safety and are built for usefulness and long-life investment. A SUNRNR can run many necessary devices during extended power outages. It doesn't take many refrigerator loads of spoiled food to see your return on investment.
Portable renewable energy solar generators, unlike gas generators, have no emissions and are silent and maintenance-free. They do not require gasoline which may be difficult to find during an emergency and is often dangerous to store. What they do require (sun or wind, etc) is often plentiful after or during an event. Our system is simple, rugged, plug-and-play, expandable, and affordable, especially with SUNRNR's National Preparedness Month discount of free second solar panel (SUN110, SUNPWR) or 5% off (230V models)!
While awaiting its emergency backup role, use your SUN110 to run your washing machine, recharge your scooter, or provide power at a construction site. The SUN240 is most-frequently used to run well pumps and the SUN220 is made for international use. Or if your utility rate varies based on day or time, use your SUNRNR during expensive peaks.
Visit our website and subscribe to our mailing list for newsletters and announcements like this. And we always appreciate likes, follows, connects, shares, tweets, testimonials, blogs, videos, and yelps. New dealer applications welcome!
Featured Product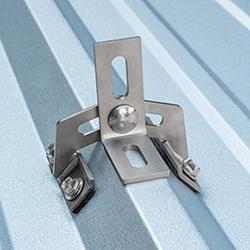 Error-Proof Compression: The QB2 doesn't leave any room for user error when it comes to Microflashing® compression. Once the Dual Drive Shoulder Screw is secured, the Microflashing® is compressed. Only 3 Components: The QB2 is comprised of Microflashing®, an L-foot and a Dual Drive Shoulder Screw. No more Nuts needed to tighten and secure the L-foot! Not only does this simplify the installation process, it also cuts down the installation time.