This hereby invention is related with the electronic thermometer, which displays the temperature of the water inside the tank of the water heating solar collector.
The aforementioned invention is related with the temperature sensor, placed on the water tank, which is used to know the temperature of the water inside the water tank of the solar collector without any need to tap the water, the thermometer, which is preferably placed at the kitchen, the thermometer temperature sensor connection cable, thermometer rack, the temperature value display, which is located onto the frame of the thermometer, cold water indicator (blue led light), warm water indicator (yellow led light), how water indicator (red LED light) and the electronic thermometer with thermometer on switch component.

Featured Product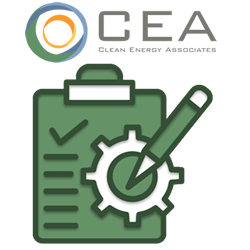 Clean Energy Associates provides a complete quality assurance solution that covers the entire product lifecycle of PV modules, storage systems, and every Balance of Sy stem (BOS) component. CEA's experienced on-the-ground and international team of quality control engineers and account managers offer an unparalleled quality assurance presence that can protect solar and storage investments and ensure future energy-producing viability for the life of the product.