The system will be commissioned in the first half of 2014.
Devens, MA – September 10, 2013 – AMSC (Nasdaq: AMSC), a global solutions provider serving wind and power grid industry leaders, today announced that Consolidated Power Projects (CONCO), South Africa's largest high voltage construction company, has selected AMSC's D-VAR® STATCOM solution to connect South Africa's largest wind farm to the electricity grid. This is AMSC's first D-VAR STATCOM sale to South Africa. The system will be commissioned in the first half of 2014.

"We selected AMSC as the grid interconnection solution provider because of its proven ability to meet even the most stringent of grid codes and keep wind farms online thereby increasing output and revenues," said Rein Dijkstra, Business Unit Manager; Renewable Energy, CONCO.
To ensure high quality power and a stable electricity grid, South Africa has carefully reviewed the lessons learned by other countries and regions that have added substantial amounts of renewable energy to their grids and have designed strict grid codes that must be met in order for renewable power plants to connect to the grid. AMSC's D-VAR solution offers complete VAR compensation and voltage control, enabling wind and solar energy generation systems to meet the most stringent requirements while augmenting overall performance of the wind farm.
Located at the wind or solar plant substation, AMSC's STATCOM products provide a renewable energy integration solution that allows power plants to stay online and helps prevent the nuisance tripping of solar inverters and wind turbine generators. Customers utilize AMSC's D-VAR solutions to provide dynamic voltage control, power factor correction and post-contingency reactive compensation to stabilize the power grid and prevent undesirable events such as voltage collapse.
"The D-VAR system cost effectively provides the dynamic reactive VAR compensation that is essential to connect renewable power plants to the grid effectively, making it an ideal solution for the emerging South African renewables market," said Daniel P. McGahn, President and CEO, AMSC. "CONCO has built a reputation as Africa's leading developer of quality, turnkey high voltage solutions and we are looking forward to working with them and helping to deliver a clean energy to South Africa."
D-VAR dynamic reactive compensation systems are classified as Static Compensators, or "STATCOMs," a member of the FACTS (Flexible AC-Transmission System) family of power electronic solutions for alternating current (AC) power grids. AMSC's D-VAR solutions are able to detect and instantaneously compensate for voltage disturbances by dynamically injecting leading or lagging reactive power into the power grid. AMSC has received orders for over 100 STATCOM power grid solutions worldwide. The company's D-VAR STATCOM customers include more than 20 power grid operators worldwide.
About AMSC (NASDAQ: AMSC)
AMSC generates the ideas, technologies and solutions that meet the world's demand for smarter, cleaner … better energy. Through its Windtec™ Solutions, AMSC provides wind turbine electronic controls and systems, designs and engineering services that reduce the cost of wind energy. Through its Gridtec™ Solutions, AMSC provides the engineering planning services and advanced grid systems that optimize network reliability, efficiency and performance. The company's solutions are now powering gigawatts of renewable energy globally and enhancing the performance and reliability of power networks in more than a dozen countries. Founded in 1987, AMSC is headquartered near Boston, Massachusetts with operations in Asia, Australia, Europe and North America. For more information, please visit http://www.amsc.com.
Featured Product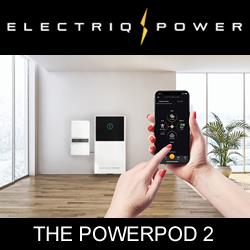 The Electriq PowerPod 2 is a fully-integrated home energy storage, management, and monitoring system powered by LFP batteries. The high-performance, cobalt-free product includes a hybrid solar/battery inverter controlled by intelligent software. The PowerPod 2 provides backup power and can self-consume or export excess power back to the grid.