The average cost of a completed PV system dropped by 24 percent over the past year to $3.37/W. The average cost of a PV module has fallen even more.
A recent article published on Bloomberg.com spelled out how solar panels are fast becoming the "new granite countertops" – or the amenity for new homes that is both highly coveted and more and more available.

Solar energy has become one of the fastest growing industries in the nation, according to a report by the Department of Energy's Lawrence Berkeley National Laboratory, and much of this is due to rapidly declining costs.
The average cost of a completed PV system dropped by 24 percent over the past year to $3.37/W. The average cost of a PV module has fallen a whopping 80% over the last 5 years (source: SEIA/GTM Research). The main factors that led to a drop in solar costs include the decrease in system prices such as inverters, mounting hardware, permitting and fees.
The solar industry currently provides about 120,000 jobs at more than 5,600 companies nationally, the report said. Solar job growth has doubled in the last three years, particularly among small businesses.
In the first quarter of this year, solar energy installations accounted for more than 48 percent of new electric capacity installed throughout the country. The U.S. now has over 8,500 MW of cumulative installed solar electric capacity, enough to power more than 1.3 million average American homes.
What does this mean to solar enthusiasts like you?
There's no better time than now to look into adding a solar energy system to your roof or back yard. Lower prices mean a solar panel system will pay for itself more quickly, putting more money back into your pocket faster than ever before!
Maybe you looked into installing solar a number of years ago. If so, we encourage you to request an updated quote and see for yourself just how affordable solar has become. Homeowners across the nation are going solar at a rapid pace – residential installations grew 53% in Q1 2013 over the same quarter last year.
Contact us to schedule a free in-home solar energy consultation. We'd love to talk with you about solar powered cars and solar powered homes!
www.solarenergy-usa.com
Featured Product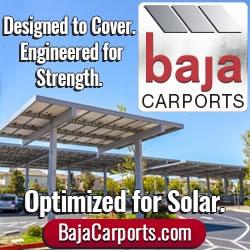 Baja Carports offers an extensive solar support system product line customized to customers' site specifications by in-house engineers, meeting their parking lot coverage, plus optimal PV production needs. Baja's Full Cantilever Tee is often paired with its Semi and Full Cantilever carports to meet live/loads up to 60psf and wind speeds to 160mph. All Baja products are pre-fabricated, bolted connections, pre-galvanized structural steel for fast on-site installation and project aesthetic requirements."