Tiger Group conducts bid offering for one-of-a-kind waste-to-energy facility in Rialto, Calif.
LOS ANGELES (9/16/13)—Tiger Group's Remarketing Services Division is liquidating the assets of a renewable energy plant in Rialto, Calif., formerly owned by EnerTech Environmental, Inc. Considered the only facility of its kind in the U.S., the southern California operation consists of both a wastewater treatment facility and a sewage sludge drying line. The assets are being marketed in a sealed bid offering that closes at 5:00 p.m. (PT) on Sept. 26.

"Companies involved in wastewater treatment and waste-to-energy projects will be interested in this dual purpose facility, which is being offered as a turnkey operation," said Jeff Tanenbaum, President of Tiger's Remarketing Services Division. "The Rialto facility was built to provide a long-term recycling plan for five municipalities in the Los Angeles region by converting their wastewater sludge into a renewable solid fuel called eFuel. According to former plant management, before running into financial troubles and shuttering operations, the plant had processed approximately 250,000 wet tons of wastewater sludge and produced over 75,000 tons of eFuel pellets, which it sold to local cement kilns and demonstrated in combustion power plant applications."
The $100 million-plus facility was launched in June 2009 by Atlanta-based EnerTech and was closed by the now-defunct company in October 2012.
The plant itself has intrinsic value, according to C. Robert Guy, chief operating officer of Corona-based HCI Environmental & Engineering Service, which is partnering with Tiger to prepare the facility and site for sale. "The facility's technology and equipment make it the only one of its kind in the U.S.," he noted. "Waste-to-energy is increasingly seen as a vital strategy, and we've already received inquiries from a number of interested parties."
To support the wet operation, the facility features two 400,000-gallon digesters that give it 800,000 gallons of anerobic digesting capacity, as well as 250,000- and 400,000-gallon aeration basins. The dry operation is built around a nominal 400 wet ton-per-day rotary drum dryer. Additional equipment that supports the operation and integrates the two processes include two water ultrafiltration systems and two late model Flottweg Decanter Centrifuges. The assets also include such facility and support equipment as a diesel drive centrifugal fire pump system, a 2011 triple chamber RTO system, three 43M BTU/hr cooling tower condensers, four 200 hp rotary screw air blowers, rolling stock, laboratory equipment, and more. The facility sits as it did at the time it was shuttered, including all intact tanks, conveyors, piping, pumps, and associated systems.
The plant and equipment will be available for preview by appointment only. For a full description of the offering and details on how to schedule a site visit and bid, visit: www.SoldTiger.com.
About Tiger Group
Tiger Group provides asset valuation, advisory and disposition services to a broad range of retail, wholesale, and industrial clients. With over 40 years of experience and significant financial backing, Tiger offers a uniquely nimble combination of expertise, innovation and financial resources to drive results. Tiger's seasoned professionals help clients identify the underlying value of assets, monitor asset risk factors and, when needed, provide capital or convert assets to capital quickly and decisively. Tiger's collaborative, straight-forward approach is the foundation for its many long-term 'partner' relationships and decades of success. Tiger operates main offices in Boston, Los Angeles and New York. To learn more about Tiger, please visit www.TigerGroup.com.
Featured Product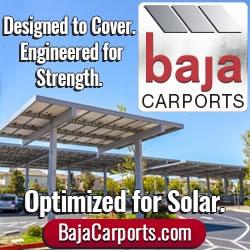 Baja Carports offers an extensive solar support system product line customized to customers' site specifications by in-house engineers, meeting their parking lot coverage, plus optimal PV production needs. Baja's Full Cantilever Tee is often paired with its Semi and Full Cantilever carports to meet live/loads up to 60psf and wind speeds to 160mph. All Baja products are pre-fabricated, bolted connections, pre-galvanized structural steel for fast on-site installation and project aesthetic requirements."