A new lithium-ion battery system for pallet jack applications
September 17, 2013 – Applied Energy Solutions and AllCell Technologies will launch the Superion™, a new lithium-ion battery system for pallet jack applications at The Battery Show in Novi, MI (September 17-19, 2013). The Superion™ system developed by Applied Energy Solutions offers significant improvements over the lead acid batteries prevalent in the industry today, including faster charging times, smaller size, lower weight, and improved efficiency. The new system will be on display at the Applied Energy Solutions Booth (#B1229).

More and more material handling equipment manufacturers are finding that lithium-ion battery systems offer important benefits compared to lead acid systems. Faster and more efficient charging allows operators to do away with extra batteries and battery swapping equipment while simultaneously saving money on electrical bills. Lithium-ion batteries are also virtually maintenance free because the electrolyte level does not need to be monitored, leading to further operational savings. The modular Superion™ system allows further flexibility, with options ranging from 5.4 kWh to 10.8 kWh.
The modules inside the Superion™ are produced by AllCell Technologies, and integrate the company's proprietary thermal management technology to improve battery cycle life and safety. AllCell's technology employs a composite material manufactured from phase change materials (PCM) and graphite that effectively absorbs and distributes heat through the battery pack to avoid hotspots and limit maximum temperature. AllCell's PCM is particularly valuable in hot operating environments where the battery has to be protected from both internal heat (generated while charging and discharging) and external heat.
According to AllCell CEO Said Al-Hallaj, "We are very pleased to be working with an innovative and forward-looking partner like Applied Energy Solutions to bring next-generation battery technology to the material handling industry. The combination of our proprietary technology with their deep industry knowledge and integration experience has produced an initial product with a very exciting value proposition."
President & CEO of Applied Energy Solutions, Vern Fleming adds "We are very excited to announce this partnership with AllCell because with their proprietary technology and our vast knowledge, focus on industrial applications and proprietary algorithms refined to detail state of charge information, we create a great team that can create and develop a highly refined and specialized product that will increase efficiency and the longevity of batteries in pallet jacks."
Featured Product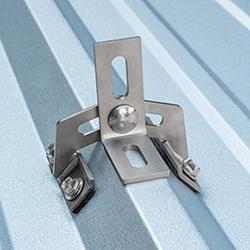 Error-Proof Compression: The QB2 doesn't leave any room for user error when it comes to Microflashing® compression. Once the Dual Drive Shoulder Screw is secured, the Microflashing® is compressed. Only 3 Components: The QB2 is comprised of Microflashing®, an L-foot and a Dual Drive Shoulder Screw. No more Nuts needed to tighten and secure the L-foot! Not only does this simplify the installation process, it also cuts down the installation time.