Plant constructed in Croatia
Munich/Germany, September 17, 2013 – By applying the principle of positive power sorting to its PV modules, the Scandinavian-German manufacturer Innotech Solar AS (ITS) is enabling its customers to generate higher energy yields than the nominal power rating. What's more, even higher energy yields can be achieved in combination with a power optimizer or a micro-inverter particularly in non-optimal module string combinations, orientations and mounting applications.

"Combining ITS modules with power optimizers or micro-inverters allows them to increase this already high yield even further. Power optimizers and micro-inverters ensure that every single module works at its full capacity – even if they have been connected unfavorably, such as in the event of the modules in a plant being fitted at varying angles of inclination or orientations, unequal shading or differences in output between individual modules. This enables our customers to exploit the advantage of our positively sorted modules even more," explains Dr. Thomas Hillig, Vice President Module Sales & Marketing at Innotech Solar.
The Croatian installation company Solar Varibo recently completed a solar system on a challenging roof that points in three directions. Innotech Solar's positively sorted modules and the use of power optimizers are set to ensure that the PV project generates the best possible yields despite this disadvantageous roof shape. The 10 kWp plant has been mounted on a residential building in the Croatian town of Županja.
"We had initially feared that the complicated roof was not suitable for generating solar power. However, the high-performance ITS modules and the use of power optimizers more than make up for the disadvantages presented by the roof's shape and the plant will be capable of generating excellent yields," reports Solar Varibo's plant manufacturer Ivan Varzic.
A multitude of tests by independent experts, such as the Fraunhofer Institute, the Photovoltaik-Institut Berlin and PV Lab, have demonstrated the high performance, durability and positive environmental impact of Innotech Solar's European modules.
Press photos are available to download at: www.innotechsolar.com/en/downloads/press-and-media.html
About Innotech Solar
The Scandinavian-German company manufactures solar modules in Europe and sells them worldwide. Innotech Solar specializes in the production of particularly environmentally friendly modules with optimized solar cells and uses innovative processes developed by in-house research teams to do so.
Innotech Solar optimizes solar cells in Halle an der Saale, Germany, and manufactures its modules in a former REC solar factory in Glava, Sweden, which thanks to its fully automated production lines is one of Europe's most modern manufacturing plants. The production process is powered at both sites using 100 percent renewable energy.
www.innotechsolar.com
Featured Product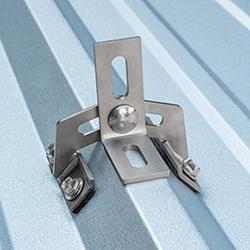 Error-Proof Compression: The QB2 doesn't leave any room for user error when it comes to Microflashing® compression. Once the Dual Drive Shoulder Screw is secured, the Microflashing® is compressed. Only 3 Components: The QB2 is comprised of Microflashing®, an L-foot and a Dual Drive Shoulder Screw. No more Nuts needed to tighten and secure the L-foot! Not only does this simplify the installation process, it also cuts down the installation time.