Company to Develop Over 100 Distributed Wind Energy Projects in Four States
San Diego, CA – September 19, 2013 – United Wind, a leading provider of distributed-scale wind energy through its WindLease™ platform, announced today that it has secured a tax equity commitment from GSG Energy Finance, an energy equipment leasing company, enabling the company to deploy up to $25 million towards wind energy projects in the United States. With this commitment, United Wind can now effectively monetize the tax incentives created by these projects, in order to realize significant savings for its customers.

"GSG's tax equity commitment marks the first time institutional capital has invested through a programmatic leasing platform for distributed-scale wind. WindLease allows millions of US property owners with the right mix of wind resource and energy needs to pay less for their electricity usage than ever before," said Russell Tencer, Co-Founder and CEO of United Wind. "We are excited for our initial WindLease adopters to begin generating clean, low-cost energy directly on their properties."
United Wind plans to install turbines primarily in the rural areas of New York, Oregon, Massachusetts and Maryland, where distributed-scale wind is most cost effective due to strong wind resources and above average energy prices.
"Together, GSG and United Wind are pioneering a unique offering for those families and small business owners seeking to decrease their energy bills by harvesting the wind energy right in their backyard" explains Andrew Bender, CEO of GSG Energy Finance. "We are delighted to begin our partnership with United Wind in launching the WindLease program."
WindLease provides an affordable wind power option to property owners by utilizing United Wind's proprietary wind turbine siting software. By decreasing planning and construction costs, United Wind can pass significant savings on to those property owners across the nation whose properties are suitable. In addition, the company handles the installation, permitting and ongoing maintenance of each turbine, in partnership with a network of experienced installers who are familiar with the local requirements for distributed-scale wind turbines.
For more information on how your home or business can take advantage of affordable wind technology, follow United Wind on Twitter, LinkedIn, Facebook, and YouTube (Preview) , contact United Wind at info@unitedwind.com or call 877. 448.2526.
About United Wind
United Wind is a leading provider of low-cost electricity through its WindLease™ program. By leasing a distributed-scale wind turbine and lock in their rates to protect against rising energy prices property owners and mid-sized businesses can immediately save on their energy costs. Founded on the belief that the ability to utilize wind energy must be affordable to compete with conventional, less sustainable energy sources, United Wind provides customers with low-cost wind energy options that make sense for today and the future. For more information visit: http://www.unitedwind.com.
Featured Product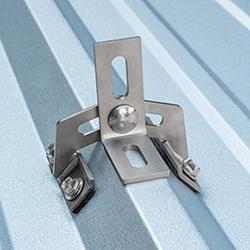 Error-Proof Compression: The QB2 doesn't leave any room for user error when it comes to Microflashing® compression. Once the Dual Drive Shoulder Screw is secured, the Microflashing® is compressed. Only 3 Components: The QB2 is comprised of Microflashing®, an L-foot and a Dual Drive Shoulder Screw. No more Nuts needed to tighten and secure the L-foot! Not only does this simplify the installation process, it also cuts down the installation time.