The Spain-based multinational company will supply the fixed structure to the largest solar PV installation in Australia, a market MECASOLAR expects to account for 8% of its total turnover by 2015.
23 September 2013. The Spain-based multinational firm MECASOLAR, specialising in the design and manufacture of solar trackers, fixed structures for ground- and roof-mounted installations, and foundation screws for large solar PV installations, has signed an important agreement with ACCIONA ENERGY OCEANIA to supply the fixed structure to be installed in Australia's largest solar farm, located in Royalla, near Canberra. The farm's capacity will amount to 24MWp.

The company began supplying the PV products to the Australian solar farm in late August, and delivery will be completed in December. This project is an ACCIONA ENERGY OCEANIA's turnkey service for FOTOWATIO RENEWABLE VENTURES (FRV).
The MECASOLAR fixed structure can be installed on all types of ground and sizes, facilitating and reducing transport and assembly costs with a robust, versatile and cost-effective product.
The farm in Australia will use a two-post structure carrying two modules in portrait layout, treated with a hot-dip galvanising method and allowing for fast assembly. Given the characteristics of the ground, the developers chose the micropile anchoring system that supports the structure posts.
MECASOLAR had participated in previous solar projects in Australia, where it has supplied 300kW in dual-axis trackers so far. Owing to its geographical location, Australia is not easy to reach but even so, MECASOLAR operates as a highly competitive company in this market.
The firm expects its 2015 sales in Australia, including the Royalla project, to represent 8% of its international total turnover. At the Marketing Department they say, 'Oceania is a big strategic market to us, and we're already well-established there.'
In the first half of 2013, MECASOLAR hit a record high of 400MW solar trackers supplied to and installed in solar farms in more than 40 countries.
Although Europe has traditionally been the firm's 'natural' market, the trend is expected to change in the foreseen future, since by 2015, 200MWs more will have been added to the 400MWs that have been installed to this day. In 2015, company sales in America are expected to increase from 23% to 43%; in Asia they are to grow from 1% to 12%; in Africa, from 1% to 10%, and finally, in Oceania, from 6% to 8%. As for Europe, a downward trend is expected: MECASOLAR's turnover is to drop to 27% from today's 69%, as a result of changes in regulations in the region. 'These figures can be explained by our bet on strategic markets such as USA, Mexico, Chile, Peru, Brazil, Australia, South Africa and India, among others, where we're currently operating,' said sources at MECASOLAR.//
www.mecasolar.com
ABOUT MECASOLAR www.mecasolar.com
MECASOLAR specialises in the design, manufacture and supply of dual-axis and horizontal, azimuth or polar-aligned single-axis trackers, fixed structures and MECASCREW foundation screws for PV solar facilities.
The company's trackers, with a total power of over 400MW, have been installed in more than 40 countries.//
Featured Product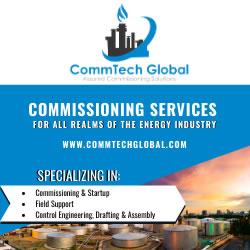 CommTech Global Solutions, LLC, provides professional and reliable commissioning services to customers in all realms of the energy industry. We blend our skills in engineering and technology with innovative business models, offering a complete range of services to assist you for a successful and in compliance operational startup. Consolidation of all our service domains gives our clients a comprehensive set of expertise and far-reaching experience on each project.