Mexico Power Group and Volkswagen Mexico announce agreement for 130 MW of wind power
Mexico Power Group takes another step forward in helping Mexico achieve its renewable energy goals and economic prosperity.

"Baja California-headquartered Mexico Power Group, which spun off from San Diego-based Cannon Power Group in 2011, signed an agreement this month to supply wind-generated electricity to Volkswagen's decades-old assembly plant in Puebla and a VW engine manufacturing facility in Guanajuato state."
- UT-San Diego, "Wind prospectors delve into Mexico," September 12, 2013: http://m.utsandiego.com/news/2013/sep/12/wind-prospectors-delve-Mexico/
At an event held in Zacatecas Mexico on September 4, 2013, Mexico Power Group and Volkswagen Mexico announced, with Secretary of Energy Pedro Joaquin Coldwell, Governor of Zacatecas Miguel Alonso Reyes, Mayor of Zacatecas Arnoldo Rodriguez Reyes, and executives from Mexico Power Group and Volkswagen Mexico present, a 20-year agreement for Volkswagen Mexico to purchase 130 megawatts (MW) of renewable energy from Mexico Power Group's La Bufa wind farm under development in Zacatecas, Mexico.
Footage of the event can be found here (English version available upon request): https://mexico.app.box.com/s/dpst6fvexit1o5h2b367
In a statement, Mexico President Enrique Peña Nieto applauded this partnership and its success in helping Mexico achieve its 35% renewable portfolio standard by 2024. Read President Peña Nieto full announcement here: http://www.presidencia.gob.mx/convenio-entre-mexico-power-group-y-volkswagen-de-mexico/
Featured Product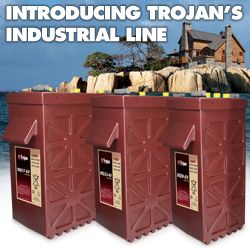 Trojan's deep-cycle batteries provide rugged durability, outstanding performance and long life for use in all types of solar energy installations. With over 90 years of experience, Trojan delivers the world's most reliable and trusted batteries in flooded, AGM, Gel, and Lithium types. These batteries enable solar equipment systems to operate at a peak level of performance in the harshest conditions or the most challenging of locations and are manufactured and tested to IEC standards.