Loyal installation partners gather for inaugural, two-day conference
HILLSBORO, Ore., Oct. 20, 2013 – More than 250 people from every region of the United States and nearby islands are convened for an inaugural, two-day annual summit meeting of SolarWorld's authorized installers, where they are reviewing the latest product, manufacturing and marketing advances in support of high-reliability solar solutions from SolarWorld, the largest U.S. solar manufacturer for more than 35 years.

The summit meeting has brought together many representatives of the company's large but still fast-growing core of authorized installers, which have more than doubled in number since 2011. The authorized installer program provides all of the elements that installers need to offer complete solar solutions to their customers, including co-marketing, lead generation, design services, financing options and turnkey systems.
The summit, titled "Stronger Together," is showcasing the SolarWorld-led network's strength amid industry turmoil as well as its commitment to domestic manufacturing and high technological performance, innovation and reliability.
Paula Mints, founder and chief market research analyst of SPV Research, offered an overview of world industry trends on Thursday. Mints, who has studied the solar industry for 16 years, said aggressive pricing beginning in 2009 has squeezed manufacturers' margins, limiting money for research and development as well as quality controls. The pressures have resulted in business failures among U.S. and European manufacturers, Mints said. A healthy solar industry needs diversified regional markets and domestic manufacturing, she said.
Kevin Kilkelly, president of SolarWorld Americas, the company's commercial unit for the Americas, bestowed SolarWorld Globe Awards to three authorized installers, who in and of themselves demonstrate the breadth and depth of support for SolarWorld within the U.S. market. Kilkelly honored:
* Pacific Energy Co., based in San Luis Obispo, Calif., for its loyalty to SolarWorld's U.S. operations since 1980.
* Louisiana's Gunn Solar Energy Systems for its high customer satisfaction and its success marketing solar solutions in the U.S. state with the second lowest electricity rates.
* Pacific Solar & Photovoltaics for coming the greatest distance – 5,688 miles from Guam – to attend the summit.
Kilkelly also honored Water Missions International, a South Carolina nonprofit, for its use of the company's solar panels to power clean, safe water systems within impoverished communities in the developing world.
Attending authorized installers gathered Thursday at a Portland hotel. Today, they are convening at SolarWorld's U.S. manufacturing operations in Hillsboro, where they are taking in-depth tours of the facility, the largest solar-manufacturing plant in the Western Hemisphere.
A high-resolution photo is available on the SolarWorld website.
About SolarWorld
SolarWorld AG manufactures solar power systems and in doing so contributes to a cleaner energy supply worldwide. The company, located in Bonn, employs approximately 2,500 people and carries out production in Freiberg, Germany, and Hillsboro, Ore. From raw material silicon to the solar module, SolarWorld manages all stages of production ‒ including its own research and development. Through an international distribution network, SolarWorld supplies customers all over the world with solar modules and complete systems. The company maintains high social standards at all locations across the globe, and has committed itself to resource- and energy-efficient production. SolarWorld has been publicly traded on the stock market since 1999. More information at www.solarworld-usa.com.
Featured Product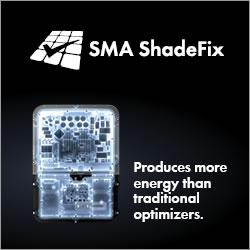 A recent university study showed SMA ShadeFix optimization produces more energy than traditional optimizers. It also utilizes far fewer components, reducing the need for costly service visits. Systems with ShadeFix optimization and SunSpec certified shutdown devices are the ideal solution for residential and commercial PV systems. Visit SMA's website to learn more and download the whitepaper.