Located at Konterra headquarters with funding from the Maryland Energy Administration 'Game Changer' Grant; Maryland Governor Martin O'Malley to dedicate system on October 15
Standard Solar and Solar Grid Storage Collaborate to Complete Pioneering Commercial Solar Microgrid

Located at Konterra headquarters with funding from the Maryland Energy Administration 'Game Changer' Grant;
Maryland Governor Martin O'Malley to dedicate system on October 15
ROCKVILLE, MD, SEPT. 24, 2013 -- Standard Solar, a leader in the full-service development, construction, integration, financing and installation of solar electric systems,  in collaboration with Solar Grid Storage
, today announced that construction is complete on the solar microgrid project at Maryland-developer Konterra's headquarters. The project, announced earlier this year, is a grid-interactive energy storage system co-located with a new 1,368 panel photovoltaic (PV) array, creating one of the nation's first commercial scale microgrids.
This 402 kW groundbreaking system, located at Konterra's corporate headquarters in Laurel, MD, is estimated to generate 20 percent of the building's annual power. The canopied solar array, which includes two electric vehicle charging stations with infrastructure for four additional stations, will be dedicated by Maryland Governor Martin O'Malley on October 15.
"Our better choices to invest in clean energy have paid off. In Maryland, by making solar energy a priority, we went from approximately zero to nearly 1,319 times more solar on the state's grid as well as 2,000 more solar installation jobs than in 2007," said Governor Martin O'Malley. "We've set some of the most aggressive goals in the country for reducing our energy consumption, and increasing our use of renewable energy. Solar energy will diversify our energy portfolio and make us a leader in sustainable energy development."
The project is financed by Konterra, PNC Bank and Solar Grid Storage and supported through a Maryland Energy Administration (MEA) "Game Changer" Grant. Konterra is designed to be a sustainable mixed-use community in which healthy working and living environments incorporate innovative technologies and renewable energy solutions. With Maryland's first commercial solar microgrid installation at its headquarters Konterra will reduce its use of non-renewable natural resources, while also providing stability to the grid and backup power to its building during outages.
The innovative system is powered by a 402kW solar PV array that not only produces clean electricity but can also provide new benefits such as backup emergency power, demand reduction and peak shaving. In the event of a grid power outage, the Solar Grid Storage advanced energy storage system allows critical circuits at Konterra to remain energized.
The system can also enhance grid reliability by helping balance the grid through frequency regulation, volt-ampere reactive (VARs) compensation, and demand response services. According to Navigant Research, more than 1,300 gigawatts (GW) of wind and solar power generation capacity are expected to come online in the next 10 years. Widespread adoption of micro-grids will ensure that this huge increase in solar and wind power is effectively integrated into the national utility grid.
About Solar Grid Storage
Solar Grid Storage has developed a groundbreaking business model that allows batteries to be added to commercial solar photovoltaic (PV) installations while lowering costs and adding new benefits. Its PowerFactor™ systems provide all standard PV functions while unlocking innovative new uses of solar energy that are realized at virtually no cost to the host, and can provide emergency power during outages, reduce demand charges, and help grid operators balance power on the grid. Simply put, Solar Grid Storage is helping to usher in the grid of the future.
About Standard Solar
Standard Solar, Inc. is a leader in the full-service development, construction, integration, financing and installation of solar electric systems. Dedicated to making solar solutions more accessible to businesses, institutions and governments, the company is leading the way to energy independence. Committed to offering responsible and energy cost-saving solar solutions that conform to the highest standards, Standard Solar is one of the most trusted and respected solar companies. Since 2004, Standard Solar has been the partner of choice to make solar energy financially accessible, helping customers through financing options, including Power Purchase Agreements (PPAs) and navigating expanded federal and state and local tax credits. The company's Standard Energy Solutions
(SES) division provides home energy solutions including home solar, energy efficiency and energy management services. Named one of the Fastest Growing Private Companies in America for four consecutive years by Inc. Magazine, Standard Solar is headquartered in Rockville, MD. For more information, please visit www.standardsolar.com.

###

Contact:

For Solar Grid Storage:
Susan DeVico SusanDV@aol.com (510) 339-1527
Featured Product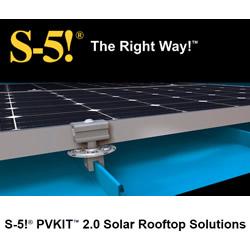 The concept of combining PV arrays with standing seam metal roofing is growing-for good reasons. Metal roofs have a life expectancy of more than 40 years. Shouldn't the mounting system last as long? With S-5! zero-penetration attachment technology and PVKIT 2.0, the solarized metal roof is the most sustainable system available -and without compromising roof warranties! PVKIT 2.0 is the also the best solution for attaching PV modules directly to any exposed fastener metal roof.