Unique Program Reduces Costs for Customers by About $7500 Each, Making Solar Power More Affordable and Attractive To Homeowners
Rocky Hill, CT & Washington, DC – September 25, 2013 –The Clean Energy Finance and Investment Authority (CEFIA) and SmartPower released today a report that reveals a proven model for dramatically reducing the cost barrier that has stood in the way of wide-scale adoption of residential solar power in the United States. In recent years, the cost of the hardware required for residential solar power has declined significantly; it's the "soft" costs of customer acquisition that have been the primary obstacle. This report reveals a way to reduce those soft costs and make residential solar power attractive not just to those who are naturally inclined to alternative energy sources but also to those who simply want to stabilize their energy costs. About 20% of those choosing solar under this model had never thought about acquiring solar power before.

The report details the results of Phase 1 of Solarize Connecticutsm – a partnership between CEFIA and SmartPower is part of the Energize Connecticut initiative, which helps consumers and businesses save money and access clean energy. The results cover a 20-week four-town initiative to advance the adoption of residential solar photovoltaic systems by lowering acquisition costs and making solar more affordable to residents using the Solarize model. The results, which are impressive and highlight the extraordinary potential of residential solar power as acquisition costs decline, include the following:
*In only 20 weeks – and in every Solarize community -- the rate of adoption for residential solar installations was between 24 and 64 times greater than the previous seven years. In one town, during this same 20 weeks, installed capacity more than quintupled.
*The average Solarize customer saved approximately $7500 on their system when compared to current market averages.
*More than 2 Megawatts of new solar photovoltaic capacity was deployed across the four communities, close to triple what was installed in those towns during the preceding seven years.
*Compelling drops were realized in customer acquisition costs – with "all in" costs of approximately $135 per kilowatt (kW), which is significantly less than both the industry average of $670/kW (per U.S. Department of Energy analyses and local installers' estimates of $250-$500/kW).
"These are very exciting results," said Bryan Garcia, president and CEO of CEFIA. "Working with SmartPower, it's clear that Solarize Connecticut is making solar power affordable to more and more Connecticut homeowners. We expect that the introduction of CEFIA's innovative financing tools will only further enhance this terrific program.
"We think we've cracked the code for residential solar power," said Brian F. Keane, President of SmartPower. "It shows that the costs of acquiring solar power systems can be reduced to a level where public demand increases significantly and even includes those who had not expected to be interested. And keep in mind, this was all done during a 20 week campaign."
The Solarize model consists of the following key components:
*Tiered group buying discounts, resulting in a continuous drop in pricing as more customers sign up;
*Outreach provided by participating towns and volunteers;
*Competitively-selected solar installers, using pre-approved equipment;
*An end date for the offer, motivating customers to take action.
A full report on Phase 1 of Solarize Connecticut is available at http://solarizect.com/wp-content/uploads/2013/09/TheFinalReportSept172013.pdf. The four Connecticut communities participating were Durham, Fairfield, Portland, and Westport.
A second phase in five additional communities has recently been completed, and official results are still being analyzed. Preliminary results reveal that approximately 175 contracts were executed, with each town seeing more than twice as many residential solar installations as they had in the last seven years.
Phase 3 has just begun in another set of communities. Town volunteers from those communities are now working with CEFIA, SmartPower, and the community's pre-selected solar installer to plan outreach events and workshops – providing homeowners an opportunity to meet their installer, learn about new financing options, and determine if their home is right for solar.
With the Solarize model, as more homeowners sign up to install solar, the price for everyone goes down, including those who install systems earlier in the program. Solarize customers can expect to receive discounts of between 15% and 20% on the base cost of solar systems through the program. Options to purchase, finance or lease make solar more accessible to homeowners participating in the program.
About the Clean Energy Finance and Investment Authority
CEFIA was established by Connecticut's General Assembly on July 1, 2011 as a part of Public Act 11-80. This new quasi-public agency supersedes the former Connecticut Clean Energy Fund. CEFIA's mission is to help ensure Connecticut's energy security and community prosperity by realizing its environmental and economic opportunities through clean energy finance and investments. As the nation's first full-scale clean energy finance authority, CEFIA leverages public and private funds to drive investment and scale-up clean energy deployment in Connecticut. For more information about CEFIA, please visit www.ctcleanenergy.com.
About SmartPower
SmartPower is the nation's leading non-profit organization that creates community campaigns for energy efficiency and clean energy. By engaging local partners from the municipal, business, private and non-profit sectors we promote behavior change and measurable energy actions. SmartPower's COR approach using Community outreach, On-line tools, and Rewards and Incentives is a tested formula that promotes engagement and delivers results. SmartPower is leading the New England Solar Challenge effort, which is intended to accelerate the adoption of Solar PV throughout the region. For more information, please visit www.smartpower.org.
Featured Product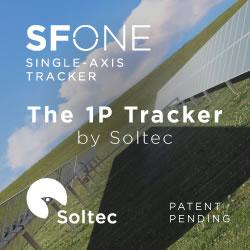 Soltec manufactures and supplies solar trackers designed and proven for extreme climate conditions, which is an ideal solution for any region's environment. Soltec's trackers are self-powered, requiring no additional PV module or grid-powered connection. Bifacial modules collect energy on both the front and rear sides, capturing reflected irradiance from the ground surface under and around the tracker and from other modules. Depending on site conditions, bifacial yield-gain can reach +30 percent.