First shipment of Würth CIS modules available as from October 1st
Zug/Asunción. On October 1st, The meeco Group's subsidiary, meeco América Latina S.A., will officially introduce the first German made CIS (Copper Gallium Selenide) photovoltaic (PV) modules in the Paraguayan market. The first container of these advanced technology modules is expected to arrive in Paraguay this week. Given their exceptional price-performance ratio, meeco América Latina is aiming to sell 150 kWp of CIS modules as part of off-grid systems until the end of the year.

Compared to polycrystalline modules, CIS modules offer a higher shadow resistance and more stability under high temperatures, reaching an 86.1 percent efficiency rate at 40 degrees Celsius environment temperature (heating up the module to 70 degrees Celsius), compared with 79.9 percent for polycrystalline modules. CIS technology also presents best behavior under low light and low angle irradiation as under diffuse light conditions. In addition, the frames on these German made CIS modules offer a better protection of the edges and corners ensuring a safer transport and mounting on roofs or pillars. Finally, meeco offers this top-end German technology for unmatchable prices in Paraguay.
"During the past years, the interest in solar solutions has continuously grown in Paraguay, and sun2flow solar-driven water pumping systems are already widespread," explains Dr. Oliver Jann, Director of meeco América Latina. "Since we presented CIS modules at the 39th Expo Rodeo Trébol last month, we have received dozens of requests for these modules. The demand for solar solutions in Paraguay is becoming more diversified and we are ready to meet it," adds Dr. Jann.
About The meeco Group: The meeco Group was consolidated in 2000 and oriented its main focus towards the energy sector. With world headquarters located in Zug, Switzerland, the group currently has over 50 employees working across 4 continents. Thanks to a structured but flexible approach based on its core competencies, meeco has delivered over 320 MW of clean, renewable energy solutions across four continents. The meeco Group accomplishes its mission by providing project developers, investors, governments, and private businesses with the services necessary for timely financing, installation, and operation of clean energy assets.
For further information visit: www.meeco.net
Featured Product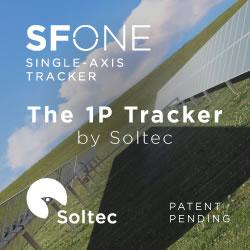 Soltec manufactures and supplies solar trackers designed and proven for extreme climate conditions, which is an ideal solution for any region's environment. Soltec's trackers are self-powered, requiring no additional PV module or grid-powered connection. Bifacial modules collect energy on both the front and rear sides, capturing reflected irradiance from the ground surface under and around the tracker and from other modules. Depending on site conditions, bifacial yield-gain can reach +30 percent.