The green education company has recently announced that they are offering intensive exam prep for the NABCEP PV Installer Exam. Offered only twice a year, this exam is one of the most difficult credentials to achieve.
New York, NY October 01, 2013

CleanEdison is a leading vocational education company focusing on supplying professionals with the tools to acquire an industry certification, such as the BPI Building Analyst Certification for residential energy audits or the LEED Green Associate for green building design and operations. The company provides individuals with the skill set that many potential clients will be looking for. With the education gained from CleanEdison, participants are propelled into the industry, and more likely to become a successful professional in renewable power or power efficiency.
The clean power industry is booming, and with so many residential and commercial businesses hopping on board, the competition for skilled professionals is fierce. Residential and commercial clients will be in the market for the most knowledgeable and accredited clean power professional available. Receiving the proper solar energy training is the first step to acquiring the necessary accreditations to make any individual a success in the industry. Most clients will be looking for a professional with experience, and just like the BPI Building Analyst Certification for residential power auditing and the LEED Green Associate for green building design, those with a NABCEP Certification will be at the top of that list.
In addition to an already extensive list of both online and in-person classes, CleanEdison is now offering a streaming online webinar to prepare individuals for NABCEP certification which will be happening on October 5th, 6th, and 13th. All of these efforts are to encourage individuals to attain the proper solar energy training before taking the fall exam on October 19th.
Attaining these credentials will help ensure participants a successful career in the clean power industry. From roofers and contractors to electricians and architects, NABCEP certification is guaranteed to result in increased business. Clients look for these accreditations as a symbol that an individual has been properly trained in subjects such as installing photovoltaic systems, power efficiency standards, and others essential to the home power performance industry. Moreover, like the BPI Building Analyst Certification or LEED Green Associate, NABCEP Certification allows contractors to offer state and utility rebates and incentives to their clients.
Statistics show a rising trend in the clean home and business industry, and the demand for competent and experienced green professionals is growing as well. CleanEdison affords many individuals the opportunity to take advantage of this market trend by furthering their education and helping them to acquire the certifications to further their careers. The company's exam prep webinar is simply an example of why they are one of the most successful businesses of their kind in the country. For more information on the webinar, or for a full list of CleanEdison's services, visit them online at http://www.cleanedison.com.
Featured Product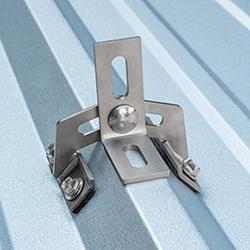 Error-Proof Compression: The QB2 doesn't leave any room for user error when it comes to Microflashing® compression. Once the Dual Drive Shoulder Screw is secured, the Microflashing® is compressed. Only 3 Components: The QB2 is comprised of Microflashing®, an L-foot and a Dual Drive Shoulder Screw. No more Nuts needed to tighten and secure the L-foot! Not only does this simplify the installation process, it also cuts down the installation time.