Second Largest U.S. Solar Installer Opens Regional Office and Plans to Hire 60 Employees to Offer Homeowners Lower Cost Energy----- Marked Launch with Team of Volunteers at DOE Solar Decathlon
IRVINE, Calif., Oct. 7, 2013 -- Vivint Solar, a leading full-service residential solar integrator, today announced its growing presence in Southern California with an expansion into Orange County. The company plans to hire up to 60 employees at a new Santa Ana-based regional office and provide its affordable, fixed price solar solutions to homeowners throughout the south coast.

"We're excited to bring our affordable, fixed price energy offering to Orange County homeowners who are looking to save money on their power bills by going solar," said Brendon Merkley, Chief Operating Officer of Vivint Solar. "As rooftop solar continues to grow as a mainstream energy choice, we'll continue to educate homeowners about their solar options."
Vivint Solar's new territory launch coincides with the start of the U.S. Department of Energy Solar Decathlon at Orange County Great Park in Irvine, California, where the company is supporting the event through a team of volunteers giving tours of the solar-powered homes designed and built by 20 collegiate teams. The homes will be on public display through October 13th.
Key facts about Vivint Solar's Southern California presence:
*Deploys a relatively unique sales model for the solar industry of a face-to-face, consultative sales team and a highly automated, efficient design and installation process.
*Currently has 200 full-time employees in Southern California, adding an additional 60 in Orange County.
*The company's sales teams, site surveyors, permitting staff, CAD designers, installers and electricians are all in-house and many are hired from local communities and trade schools.
*Actively recruits military veterans to introduce career opportunities in the solar industry.
Founded in 2011, Vivint Solar is the second largest U.S. residential solar installer, according to the U.S. PV Leaderboard published by GTM Research. Through a power purchase agreement (PPA), a homeowner can buy the power generated by a solar photovoltaic system at a lower rate than they could get from a local utility provider. Vivint Solar designs, installs, monitors and services the system with no additional out-of-pocket costs to the homeowner.
Vivint Solar currently operates in California, Hawaii, Maryland, Massachusetts, New Jersey, New York and Washington, D.C.
Vivint Solar Southern California multimedia:
Video (http://youtu.be/kmJCLIeX_vc) of Vivint Solar spokespersons from the Solar Decathlon
Photos (https://www.dropbox.com/sh/s7ck3kzarslf99o/ZkYd7RHdPz)
Audio file of radio ad (http://www.youtube.com/watch?v=K7Z-Ahtw4_0&feature=youtu.be) airing on 89.3 KPCC (Southern California Public Radio)
About Vivint Solar
Vivint Solar is a leading provider of simple, affordable solar solutions. As an early adopter of the power purchase agreement (PPA) model, Vivint Solar designs, installs, and maintains cost-effective solar energy systems. The company provides award-winning service and support while saving customers money and protecting the environment. For more information, visit www.vivintsolar.com or follow @VivintSolar.
About Vivint
Vivint is a leading provider of home technology services in North America. Vivint's technology-based platform integrates a wide range of wireless features and components that deliver simple, affordable home security, energy management, home automation, and solar solutions. In 2011, Vivint's Home Automation package and Advanced Security package received a Consumers Digest "Best Buy" rating. Dedicated to protecting families, increasing energy efficiency, and simplifying lives, Vivint has more than 13 years of experience and supports over 700,000 customers throughout the United States and Canada. For more information, visit the company's website at www.vivint.com.
Featured Product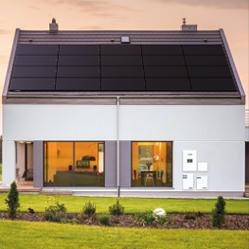 The Q.Home+ ESS HYB-G1 energy storage solution offers scalable storage capacity from 4.5 kWh up to 18.9 kWh and comes in a modular design for easy and fast installation. The system is offered in both DC-coupled and AC-coupled configurations and can connect up to 3 batteries in series using only one inverter and battery management system (BMS). The system includes an integrated backup power function for 100% of the rated inverter output to support critical loads in the event of power failure and offers remote monitoring using the QHOME+ web portal or QHOME+ ESS mobile app.