Preston Booker, has joined the organization as Senior Vice President of Sales. Stri Zulch, has joined as Vice President of Marketing.
WALNUT CREEK CA, Oct 8, 2013 – Today Quick Mount PV, the leading supplier of solar roof mounting products, announced that Preston Booker, recently Vice President of Sales at Soligent, has joined the organization as Senior Vice President of Sales. Stri Zulch, who most recently led marketing at Solaria, has joined as Vice President of Marketing.

"I'm very excited to have Preston and Stri bring their wealth of sales and marketing experience to Quick Mount PV," said CEO Claudia Wentworth. "This marks a new chapter for us as we expand our quality, made-in-U.S.A. roofing products into new markets both here and overseas."
Before his time at Soligent, Booker helped groSolar build its west coast distribution business, and prior to that he worked at Quick Mount PV during its startup days. "I'm thrilled to return to Quick Mount PV," said Booker. "The quality of the product, training and brand has set a consistent industry benchmark. I'm eager to do all I can to ensure that Quick Mount PV maintains and strengthens its market leadership position."
Zulch's extensive experience in the solar industry began as VP Marketing at PowerLight. PowerLight's acquisition by SunPower gave her an opportunity to join MMA Renewable Ventures, which became FRV and was purchased by SunEdison. Zulch then helped roll out low concentration PV technology and solar tracking systems at Solaria. "Quick Mount PV has built a tremendous foundation for future growth. It's an honor to join such a great team and have the opportunity to contribute to the company's success going forward."
"Quick Mount PV has transformed the solar roof mounting industry," added Wentworth. "With Preston and Stri we have sales and marketing leadership that matches our product quality, a tremendous asset in this growing industry."
About Quick Mount PV
Quick Mount PV manufactures building-code-compliant, waterproof solar mounting systems for installing solar electric and solar hot water systems on residential and commercial rooftops. Founded in 2006, Quick Mount PV is committed to sustainable business practices, ongoing industry training and education, and manufacturing in the USA. For more information, visit www.quickmountpv.com.
Featured Product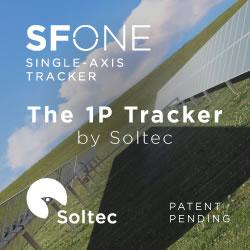 Soltec manufactures and supplies solar trackers designed and proven for extreme climate conditions, which is an ideal solution for any region's environment. Soltec's trackers are self-powered, requiring no additional PV module or grid-powered connection. Bifacial modules collect energy on both the front and rear sides, capturing reflected irradiance from the ground surface under and around the tracker and from other modules. Depending on site conditions, bifacial yield-gain can reach +30 percent.