Knowledge Foundation Announces Early Bird Registration Expires Friday October 11th
San Diego, CA October 09, 2013

The Advanced Energy Technology Congress taking place November 12-15, 2013 in San Diego includes more than 45 presentations and over 100 organizations participating to date. Take advantage of this unique opportunity to network and see the latest developments in battery technology. The three key battery industry events include Lithium Battery Power, Battery Safety and Next Generation Batteries. Advanced registration expires October 11th, 2013
Join The Many Organizations Already Participating:
3M Company
AA Portable Power Corp . Batteryspace.com
ACTA Inc
Advanced Battery Technology
AIST
Altenergymag
American Elements
Arbin Instruments
Arpa-e
Asociación Argentina de Energía Eólica
Auto Harvest
BASF Corp
Battery Condition Test International Ltd, Hong Kong
Battery Energy Technology
Battery Power
BioLogic USA
Bloomy Energy Systems
Bosch Battery Systems LLC
Broddarp of Nevada
Central South University, China
Charged Electric Vehicles Magazine
Charged Magazine
Chroma ATE
Concorde Battery Corp
CSA Group
Det Norske Veritas
Deutsche ACCUmotice GmbH
Dreamweaver International
Dynapower Corporation
EaglePicher Medical Power
EnerSys / ABSL Space Products
EV Hub
Fairfield Industries
FCBAT
Flanders' Drive
French Alternative Energies and Atomic Energy Commission
Frost & Sullivan, Inc.
Gamry Instruments
GN ReSound A/S
Hawaii Natural Energy Institute
HTC
Industrial Technology Research Institute
INERIS
Institute of Technology, Germany
Intel Corp
International Journal of Hydrogen Energy
Intertek
ITRI
Johnson Controls, Inc.
Kansai University
Karlsruhe Institute of Technology (KIT)
KVI PTE, Ltd.
LaunchPoint Energy and Power - LEAP LLC
Lawrence Berkeley National Laboratory
Leclanché SA, Switzerland
Lux Research Inc.
Maccor, Inc
Mie University
Mie University, Japan
MTI Corp
Nagaoka University of Technology, Japan
Nanyang Technological University, Singapore
NASA Johnson Space Center
National Renewable Energy Laboratory
National Taiwan University, Taiwan R.O.C.
Navigant Research
Netzsch Instruments North America, LLC
Nuvation
Oak Ridge National Laboratory / UT-Battelle
Oak-Mitsui
Palo Alto Research Center (PARC), a Xerox Company
PCTest Engineering Laboratory
PEC North America Inc
Perfect Lithium Corp
Physical Sciences Inc.
Polaris Laboratories
Pyrotek, Inc
QUALCOMM
Recycling Coordinators, Inc
RE-Database
Robert Bosch, LLC
Shinko Research Co.
Shmuel De-Leon Energy Ltd
Southwest Electronic Energy Group
Southwest Research Institute
Sovema Global Servies
Space Charge LLC
Taiwan R.O.C.
Technische Universität München, Germany
Texas A&M University
The Boeing Company
TOYO SYSTEM
Toyohashi University of Technology
Triathlon Batterien GmbH
TUM Create, Pte, Ltd.
U.S. Department of Energy
UL
Universidad de Antofagasta, Chile
University of Hawaii at Manoa
University of Maryland
University of Muenster, Germany
University of Singapore
VITO unit Energy Technology, Belgium
Welchs
Westfälische Wilhelms-Universität Münster
Wildcat Discovery Technology
Lithium Battery Power 2013
November 12-13, 2013 - San Diego, CA
Recent significant R&D and engineering innovations in energy storage technologies in general and in lithium-ion batteries in particular combined with significant achievements in safety and reliability have propelled the technology into a position in the marketplace far exceeding recent market survey results. Breakthroughs in novel battery chemistries, novel electrode and electrolyte materials, system integration for a vast array of mobile and portable applications, from micro medical devices to high-energy/high-power automotive, have paved the roadmap for an emerging market with unlimited potential. This 9th Annual Conference in our Lithium Battery Power series will guide you from technology and materials development through device packaging and integration to applications and safety in a full spectrum of lithium-ion batteries applications currently on the market.
Next Generation Batteries 2013
November, 12-13, 2013 - San Diego, CA
Breakthroughs in new battery chemistries, novel electrode and electrolyte materials, system integration for a vast array of mobile, portable and stationary applications, from micro medical devices to high-energy/high-power automotive, have paved the roadmap for an emerging market with unlimited potential. Will lithium-ion batteries deliver on the promises of the power, energy, cost and safety in commercially available energy storage systems? Or maybe the future lies somewhere beyond lithium-based chemistries? Our panel of leading experts in fields of battery materials, systems design and integration, manufacturing and commercial applications will look into emerging issues underlining this pivotal time in the battery industry.
Battery Safety 2013
November 14-15, 2013 - San Diego, CA
Widely publicized safety incidents, hazardous events related and recalls of lithium-ion batteries have raised legitimate concerns regarding lithium-ion battery safety across various battery systems sizes and applications, from microelectronics and medical to automotive and aero space. Battery Safety 2013 is will address the concerns of battery safety and reliability by exploring a wide spectrum of related topics.
About The Knowledge Foundation
The Knowledge Foundation integrates scientific ingenuity and real-world applications by fostering collaborative research at the rapidly changing intersection of science and business. Known for providing members of its Technology Commercialization Alliance with direct and unbiased state-of-the-art scientific information, the Knowledge Foundation is uniquely qualified to provide wider exposure for important developments in the emerging fields of alternative energy, nanotechnology, and chemical & biological detection technologies.
Featured Product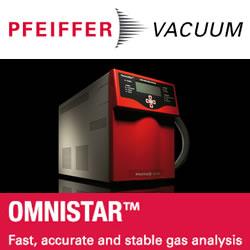 The Pfeiffer Vacuum OmniStar benchtop analysis system offers you a compact footprint, powerful software and Ethernet connectivity. It's the optimum solution for many real-time gas analysis applications. With the OmniStar, Pfeiffer Vacuum offers you a complete solution for gas analysis, in chemical processes, semiconductor industry, metallurgy, fermentation, catalysis, laser technology and environmental analysis. The turnkey OmniStar gas analysis system consists of heated, temperature-regulated gas inlet system, Quadrupole mass spectrometer, a dry diaphragm vacuum pump and HiPace turbopump. Unlike competing methods such as FTIR, OmniStar is suitable for qualitative and quantitative analysis of most gases.