The new AFD/AFCI product line enables projects to meet the 2011 and 2014 NEC 690.11 Arc Fault Circuit Protection requirements.
LIVERMORE, California (October 10, 2013) – SolarBOS, Inc., a leading developer and manufacturer for Balance of System products in the Solar Energy Industry, is pleased to announce the industry's first ETL Listed Arc Fault Detection (AFD) & Circuit Interruption (AFCI) String Combiner products.

The new AFD/AFCI product line enables projects to meet the 2011 and 2014 NEC 690.11 Arc Fault Circuit Protection requirements. AFD products are UL-1699B certified for detection of both Series and Parallel arcs; AFCI products are listed for Series arc interruption.
SolarBOS AFD/AFCI Combiners provide a cost-effective and compact means to detect and mitigate series/parallel arc-faults at the string level.
Key Features:
*ETL Listed to UL-1741, CSA C22.2 No. 29, and UL-1699B
*Sized for 12 and 16 Input Circuits up to 250 Amps
*String Level Diagnostic Resolution with Indicating LED's
*AFCI Combiners rated for 600 VDC (1000 VDC pending)
*AFD Combiners rated up to 1000 VDC
*Configurations available for Grounded, Floating and Bi-Polar Arrays
We are very excited to officially announce the ETL Listing of the AFD/AFCI product line to the industry. The SolarBOS team has been testing these products for over 2 years on multiple sites ranging from 10kW to 20MW with various inverters.
Per John Hass, SolarBOS CEO – "The team discovered early on that it's easy to make a product that works in the lab...it is a whole other level of effort to make a product that works reliably in the field!"
For more information about SolarBOS AFCI Combiners, visit www.solarbos.com/products
About SolarBOS
SolarBOS is a leading developer and manufacturer for balance of system products. In addition to providing a wide array of standard products, SolarBOS excels in providing custom solutions for integrators and designers alike. Founded in 2004, SolarBOS is located in Livermore, California. SolarBOS' deep understanding of PV systems and experience in design and manufacturing help develop reliable and cost-effective solutions for their customers.
Featured Product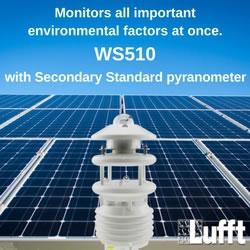 Professional weather sensors form the heart of large solar plants supporting their operation and performance. Lufft was the first manufacturer to combine several sensors in one housing, bringing the largest multiparameter weather sensor family with 19 members into being. Many of them are well-suited for solar site assessment and continuous monitoring. The most commonly used one is the WS600 delivering data on temperature, air pressure, wind, relative humidity and precipitation. Through its open protocol, it can easily be attached to radiation sensors e.g. from Kipp&Zonen. Other models have an integrated Silicon, Second Class or Secondary Standard radiation sensor.