Lufft USA WS Test Units to Be Shown at Solar Power International (Oct. 21 – 24, 2013) at Chicago's McCormick Center and Available to Industry Upon Request by Calling 1-888-519-8443
Santa Barbara, CA October 11, 2013

Lufft USA, Inc., a global manufacturer of high quality, precision weather monitoring solutions for the solar industry, today announced the introduction of a new Lufft Smart Weather Sensor, an intelligent measurement transducer featuring a digital interface and an integrated best-of-breed Pyranometer by Kipp and Zonen (Model CMP11).
The entire line of Lufft WS products will be on display and demonstrated at Solar Power International, one of the solar industry's largest conferences, co-hosted by the Solar Energy Industries Association (SEIA) and Solar Electric Power Association (SEPA), at the McCormick Center in Chicago, from October 21st to 24th. Lufft USA is exhibiting at Booth #4309 and Lufft's partners Campbell Scientific, meteocontrol and Kipp and Zonen will also have Lufft WS devices available for inspection at the conference.
"As the solar industry matures, achieving maximum kilowatt output and panel efficiency has become increasingly critical to installers and manufacturers," said Ann Pattison, CEO of Lufft USA, Inc. "Lufft has adopted the gold standard in pyrometers as an option for our customers to monitor sunlight to gather highly accurate data that power producers can use gauge the performance of their solar panels. The newly released, all-in-one Smart Weather Sensor by Lufft offers a higher standard than ever before in solar project weather monitoring."
With the availability of highly accurate weather and irradiance data, suppliers of technology to the energy industry say solar project managers can now better determine the long-term energy yield of an existing or proposed solar PV system, helping operators gauge the viability of a project or even to attract capital.
"Accurate weather monitoring provides data that solar power resource owners require to forecast their energy production," commented Mark Morosky, President and CEO of Trimark Associates, a leading provider of measurement and communications solutions for the Electric Power industry. "Owners also use revenue-grade weather data to determine if resources are performing at optimal efficiently. That's a key piece of information used to drive maintenance and operational decisions."
Designed to provide highly cost competitive solutions for a wide variety of applications, the Lufft WS501 and WS301 series models measure global irradiance with wind, temperature, humidity and air pressure (WS501) or temperature, humidity and air pressure (WS301). Both units feature built-in Kipp & Zonen pyranometers, widely considered to be the global standard for solar radiation measurement. All stations can add optional external surface temperature sensor or rainfall measurement sensors.
"It just makes sense to have an all in one sensor with solar radiation present," said Klaus Hirzel, Managing Director of G. Lufft Fellbach Germany. "The decision to work with Kipp & Zonen is like saying 'Intel Inside' for computer processors because they are the global standard for solar radiation measurement. Incorporating the Kipp & Zonen line of Pyranometers into the Lufft line of Smart Weather Stations strikes an optimal balance between high performance and functionality, yet at a reasonable cost."
Engineered for deployment across a wide spectrum of applications, the WS501 and WS301 are in full compliance with monitoring standards for some California ISO requirements (.pdf) for solar projects. With the introduction of the new Lufft smart weather sensor with integrated Kipp and Zonen, Pyranometer, the Lufft weather sensor ensures conformity for weather monitoring requirements of even the most strictly regulated utility scale solar project.
"The WS501 and WS301 Lufft Smart Weather Sensors are the proven and reliable choice to improve the accuracy solar radiation measurement needs in solar array installations anywhere in the world," commented Ms. Pattison. "We invite our customers, partners and solar technology vendors and installers to explore incorporating the Lufft WS501 and WS301 Smart Weather Sensors into the technical specifications of their projects."
Lufft WS Performance Highlights and Technical Specifications:
*All-in-One design and functionality
*Option for extreme low power function for remote deployment
*Aspirated temperature/humidity measurement
*Open communication protocol: UMB-ASCII, UMB-Binary, SDI-12, MODBUS
*Analog outputs in combination with 8160.UDAC
*External Rain gauge and surface temperature sensors are available to connect directly to the sensor.
About Kipp & Zonen
Founded in 1830 by P.J. Kipp and headquartered in Delft, the Netherlands, Kipp & Zonen provides class-leading instruments for measuring solar radiation and atmospheric properties in Meteorology, Climatology, Hydrology, Industry, Renewable Energy, Agriculture and Public Health. Kipp & Zonen is the specialist in the measurement of solar and sky radiation, from the ultraviolet to the far infrared and its best-of-breed pyranometers are depended upon by meteorological networks throughout the world. With sales and support offices in the U.S., Europe and Asia, Kipp & Zonen offers industry, strategic partners, academia and government a complete range of high quality instrumentation and accessories, from reliable cost-effective products to those delivering the best performance available. For further information, visit http://www.kippzonen.com, call 631-589-2065 or e-mail kipp(dot)use(at)kippzonen(dot)com.
About Lufft USA, Inc.
Lufft is a global manufacturer of high quality and precision weather monitoring equipment. Engineered to exacting specifications and manufactured entirely in our Stuttgart facility, Lufft's all-in-one weather stations integrate seamlessly into existing infrastructures to measure solar radiation, wind speed, wind direction, temperature, humidity, barometric pressure and rainfall. For further information, visit http://www.lufft.com, or call Ann Pattison, CEO of Lufft USA, Inc. at 805-963-7547 or e-mail ann(dot)pattison(at)lufftusainc(dot)com.
Featured Product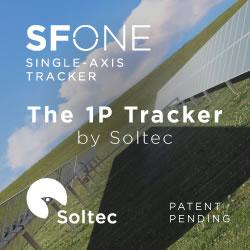 Soltec manufactures and supplies solar trackers designed and proven for extreme climate conditions, which is an ideal solution for any region's environment. Soltec's trackers are self-powered, requiring no additional PV module or grid-powered connection. Bifacial modules collect energy on both the front and rear sides, capturing reflected irradiance from the ground surface under and around the tracker and from other modules. Depending on site conditions, bifacial yield-gain can reach +30 percent.