Provides five PV mounting systems bringing solar power to low-income families
WEST SACRAMENTO, CA; October 15, 2013 – Mounting Systems, Inc., based in West Sacramento, California participated as a sponsor in the North Valley Solarthon, an annual solar block party and fundraiser for GRID Alternatives, a non-profit organization dedicated to using solar power to help low-income families save money, protect the environment and support employment. Mounting Systems, a major international manufacturer of mounting structures for photovoltaic solar systems contributed both hardware and personnel to help install solar electric systems on four homes in Rocklin, California.

Mounting Systems also contributed the time of three employees who volunteered to assist in the Rocklin installation. The company also volunteered to provide four more of its systems to GRID Alternatives for upcoming installations.
"At Mounting Systems we take great pride in our community involvement so we were quite pleased to have this opportunity to work with GRID Alternatives and the homeowners to bring them the benefits of solar power," said Kasim Ersoy, Managing Director of Mounting Systems, Inc.
Pictures:
*http://Conergy.pr-optout.com/ViewAttachment.aspx?EID=KAcwoGPC5BP2%2fThr9hqgBIqHo%2fFaQ%2b82z6E1geCEMbg%3d
*http://Conergy.pr-optout.com/ViewAttachment.aspx?EID=KAcwoGPC5BP2%2fThr9hqgBFDvh6U3v9rdayQMEJ2Tqeg%3d
*http://Conergy.pr-optout.com/ViewAttachment.aspx?EID=KAcwoGPC5BP2%2fThr9hqgBJzQ5KO9OaGIZpdZhTZZeJY%3d
About Mounting Systems
Mounting Systems GmbH was founded in 1993 in Dahlewitz, Germany. With 20 years of expertise in the market, Mounting Systems is one of the foremost international developers and producers of racking systems for photovoltaic and solar thermal facilities. In September 2008, Mounting Systems GmbH began operating as an independent company and has been selling its products in the market since. Today, the racking systems, produced in Rangsdorf and West Sacramento, are delivered to customers around the world. In 2010, Mounting Systems opened a representative office in Lyon, France. Additional representative offices have since been opened in London and Tokyo.
Mounting Systems, Inc., located in West Sacramento, CA is the US-based affiliate of Mounting Systems, GmbH, headquartered in Rangsdorf, Germany. In 2010, Mounting Systems, Inc. was established in West Sacramento, California as a manufacturer of racking systems and components for the U.S. and Canadian market. Mounting Systems, Inc. is ISO 9001 certified and in 2011, was honored with the "Patriotic Employer" award for its support of the National Guard and Reserve.
Approximately 250 employees currently work for Mounting Systems worldwide. Together, Mounting Systems, Inc. and Mounting Systems GmbH have deployed nearly 3 GW of PV racking structures.
Featured Product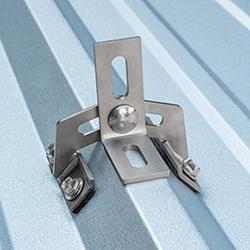 Error-Proof Compression: The QB2 doesn't leave any room for user error when it comes to Microflashing® compression. Once the Dual Drive Shoulder Screw is secured, the Microflashing® is compressed. Only 3 Components: The QB2 is comprised of Microflashing®, an L-foot and a Dual Drive Shoulder Screw. No more Nuts needed to tighten and secure the L-foot! Not only does this simplify the installation process, it also cuts down the installation time.