Nine New Products Introduced for Residential, Commercial and Utility Scale PV Solutions
CPS (Chint Power Systems) to present new product families at SPI in Chicago, October 22-24, booth #1700. As one of the fastest growing global inverter providers, CPS expanded its investment in UL approved inverter solutions to address all market segments.

PLEASANTON, Calif., Oct. 18, 2013 Residential; 3,4,5 and 6kW 1-phase, string inverters – all with dual-MPPT's, 97% efficiency, integrated wire box with AC & DC fusing and disconnects. HALT tested to extreme hot and cold temperatures for demonstrated design robustness yielding high reliability and long field life. These models are available for order now with production ramping over the next couple months.
Commercial; four products optimized for PV site design flexibility and lowest installed cost – these models can address all distributed commercial and industrial applications from 10kW to 1MW or more. For 600Vdc applications; 20kW, Photon A rated platform, 97% CEC efficiency, 480Vac and 14kW version for 208Vac. For 1000Vdc applications; 23 and 28kW, 480Vac, 98% CEC efficiency (peak 98.5%). All four models include as standard; dual, independent MPPT's, integrated wire box with DC and AC disconnects and installed DC fusing. All models are UL approved and shipping in volume now.
Utility; Leveraging its popular platform, shipping hundreds of units around the world, CPS' UL 500kW, 1000Vdc model starts shipping in North America this December. It is 98% efficient, with a full range of dynamic utility controls including LVRT, frequency ride through, reactive power (+ - 0.8 PF) control, and active power curtailment function. It is outdoor NEMA 3R/4R rated with integrated DC and AC circuit breakers. In addition, 1MW+ integrated power skids with power transformer and auxiliary power supply are available for order now, assembled in America.
"CPS is positioned as the 'value' inverter provider – with the ideal blend of high performance and lowest installed cost. To continue capturing market share, our products must be perform better and be at lower cost than incumbents," says, Ed Heacox, GM-CPS Americas Sales & Marketing.
About Chint Power Systems America
CPS America is a leader in advanced PV inverter solutions including residential string, commercial and utility products. Founded with a culture of innovation driving cost effective high performance, the leadership team has deep experience in solar and telecommunications power systems where reliability, uptime and efficiency are paramount. Chint Power has 1GW inverter production capacity and installations in 22 countries, is a division of Chint Group, a $4B global firm with business units focused on power electronics, industrial automation, power transmission and distribution and solar panels. www.ChintPower.com/na
Featured Product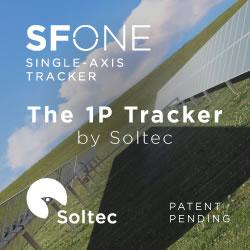 Soltec manufactures and supplies solar trackers designed and proven for extreme climate conditions, which is an ideal solution for any region's environment. Soltec's trackers are self-powered, requiring no additional PV module or grid-powered connection. Bifacial modules collect energy on both the front and rear sides, capturing reflected irradiance from the ground surface under and around the tracker and from other modules. Depending on site conditions, bifacial yield-gain can reach +30 percent.