Visit booth 2846 to learn more about Firestone Building Products' commercial building offerings
INDIANAPOLIS (October 22, 2013) – Firestone Building Products Company, LLC, a leading manufacturer and supplier of a comprehensive "Roots to Rooftops" portfolio of products, will demonstrate its premium portfolio of daylighting and PV technologies at Solar Power International, October 22 – 24, in Chicago. Solar Power International is a premier event for professionals in the solar energy field.

Solar professionals can visit Firestone Building Products at Booth 2846 to learn about the following systems:
SunWave™ Daylighting System
The SunWave Daylighting System provides premium lighting in commercial buildings. It features a double-glazed, acrylic, prismatic layered dome which allows for the highest visible light transmittance and superior light distribution. This product uses more than 4,000 prisms per square foot to refract, direct and diffuse sunlight into thousands of microbeams. Additional benefits of the SunWave Daylighting System include:
* Decreases the use of indoor electrical lighting by up to 70 percent during daylight hours
* Catches up to 20 percent more light than standard shapes
* Eliminates moisture buildup in the frame due to its insulated, condensation-resistant, thermally-broken frame and integrated exterior weeping wells
* Hail and wind resistant dome
The SunWave Daylighting System is available in six standard sizes and can be covered under the Firestone Red Shield Warranty.
SunWave™ SMRT Daylighting System
The SunWave SMRT Daylighting System uses the latest in GPS technology and mirrors to actively track the sun's movement thereby bringing high levels of diffused natural light into commercial and industrial buildings. Employing the SunWave SMRT Daylighting System allows facilities to reduce energy use for lighting by as much as 50 – 80 percent.
The lifecycle of the SunWave SMRT Daylighting System has been tested up to 30 years under extreme environmental conditions (from -20 °F to +200 °F), sustaining winds of up to 105 mph and fall protection of up to 1200 pounds dropped from 6 feet. Furthermore, a SunWave SMRT Daylighting System unit can withstand up to 4 inches of rain per hour with driving winds of 70 mph.
In addition, SunWave SMRT Daylighting units can contribute to LEED® certification and may be eligible for federal, state or local tax credits.
The SunWave SMRT Daylighting System is presently available as 4′ x 4′ or 4′ x 8′ units with triple mirror or single mirror configurations and comes with a 10-year Firestone Red Shield™ Warranty.
Rooftop Photovoltaic Systems
With the PLATINUM PV Program, Firestone Building Products pairs its roofing systems with leading PV technology to provide a complete rooftop solar installation that minimizes risk and maximizes investment. Firestone Building Products is equipped to reduce the potential for leaks and provide a more durable platform under all types of PV systems including: ballasted racks and flexible thin film PV systems.
"Firestone Building Products looks at the performance of the entire building envelope from roots to rooftops. Solar Power International is a venue for us to discuss and demonstrate the benefits of our SunWave Daylighting and PV systems which contribute to increased commercial building performance," said Gary Thompson, general manager of Innovative Products and Services (IPAS), at Firestone Building Products. "Rooftop solar is a viable alternative for the green building industry. However, because most rooftop solar arrays require the roofing system to become an integral support for PV, it is crucial to work with a knowledgeable roofing manufacturer who can recommend and supply a responsible, integrated solution, including the contractors who can properly install and maintain both systems."
About Firestone Building Products Company, LLC (www.firestonebpco.com):
Firestone Building Products Company, LLC is a leading manufacturer and supplier of a comprehensive "Roots to Rooftops" portfolio of products for commercial building performance solutions. By taking the entire building envelope into consideration, Firestone Building Products meets individual customer and project needs for roofing, wall, landscape and lining solutions. Headquartered in Indianapolis, Ind., the company also offers outstanding technical services, an international network of roofing contractors, distributors and field sales representatives, and superior warranty protection. Products include: commercial roofing systems, roofing accessories, green roofing systems, photovoltaic and daylighting systems, vegetative roofing systems, metal wall panels, insulation, cavity wall construction, pond liners and geomembranes.
Featured Product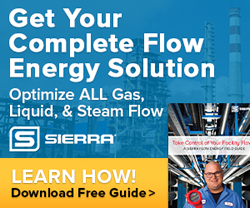 Download Flow Energy Guide - Written by Engineers For Engineers. Learn how to save on energy costs by optimizing your facility flows that impact costs like compressed air, natural gas, steam, and hot or chilled water.