Kit Carson Electric Cooperative receives prestigious national utility award for innovative new solar projects, including their Community Solar Initiative with Clean Energy Collective.
TAOS, NM. (October 23, 2013) Kit Carson Electric Cooperative (KCEC) received the prestigious Utility of the Year Award from the Solar Electric Power Association (SEPA) on October 22, 2013. The award is presented to recognize innovative new solar projects, including the KCEC's Community Solar Initiative. KCEC's community solar development partner is Clean Energy Collective.

"The Utility of the Year award is a great honor and is a testament to the foresight and hard work of the Board of Trustees, the staff and the management of Kit Carson Co-op," said Luis Reyes, CEO of Kit Carson. "We continue to aggressively pursue adding to our solar portfolio, because our members want more solar and because it is the right thing to do."
"We are very proud to have contributed to Kit Carson's goals as a solar industry leader and are pleased to be their community solar partner." said Paul Spencer, founder and CEO of Clean Energy Collective.
The 98 kW array at the Taos Charter School is the first community-owned solar power plant in New Mexico. It was dedicated in August 2012 and the start of its clean power generation was lauded by the principal, teachers and students of the school. The solar carports provide shaded parking and a valuable renewable education opportunity for the school's community.
One of 25 community-owned solar facilities CEC is building across the nation, the Taos Charter Solar Array serves KCEC members in New Mexico that are interested in owning locally-made clean energy. Those who own solar panels in the array receive all of the same tax credits and incentives as home-sited systems – their energy credits are automatically deducted from their utility bill.
About Clean Energy Collective (CEC)
Colorado-based Clean Energy Collective is a developer of community-based renewable energy facilities and a national leader in community power generation. CEC pioneered the model of delivering clean power-generation through large-scale facilities that are collectively owned by participating utility customers. CEC's proprietary RemoteMeter® system automatically calculates monthly credits and integrates with existing utility billing systems, enabling all utility customers to easily have clean, renewable power credited directly on their monthly utility bills, without modifying their home or office. www.easycleanenergy.com
Featured Product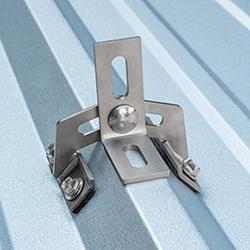 Error-Proof Compression: The QB2 doesn't leave any room for user error when it comes to Microflashing® compression. Once the Dual Drive Shoulder Screw is secured, the Microflashing® is compressed. Only 3 Components: The QB2 is comprised of Microflashing®, an L-foot and a Dual Drive Shoulder Screw. No more Nuts needed to tighten and secure the L-foot! Not only does this simplify the installation process, it also cuts down the installation time.