A flexible approach and commitment to integrity positions the company for US projects
Frankfurt Am Main, Germany – ZNSHINE SOLAR, producer of high quality monocrystalline and polycrystalline solar modules, today announces its intention to expand into the US market. The young company brings a flexible approach and reputation for integrity and differentiated technological advantage to meet the strategic needs of its customers and is looking forward to bringing this to the dynamic US market.

A rapidly changing PV industry dictated by anti-dumping issues, government regulations, regional requirements and rising energy costs is having a major effect on the sector throwing into question the hitherto standard business model of "Mega Manufacturing Plants", large scale manufacturers with complex structures, who in the future may not be able to re-shape their business rapidly enough to meet the challenges, this wildly fluctuating market brings.
ZNSHINE SOLAR is instead part of the new generation of photovoltaic companies positioned to adapt to changing legislation and market demands. Thanks to smaller factory footprints and less debt, the company is able to adjust their offering quickly, with a customer-focused business model.
Further enhancing their appeal, ZNSHINE SOLAR has built a reputation for integrity, consistently meeting the goals they set out to accomplish. The trust they have earned extends to their quality solar modules as well as to their approach for each project. ZNSHINE SOLAR is determined to use technology to drive down KWHr generation costs and is poised to launch a number of technological advances in 2014 targeted to bring down the cost of KWhr generation. From something as simple as a new self-cleaning glass coating which will improve module yield to more exciting new electronics technology greatly increasing system performance.
Stuart Brannigan, ZNSHINE SOLAR's recently appointed Vice-President Sales and Marketing Europe and Americas, and recognized industry leader, explains, "We are entering a new era in the PV industry. The end users are more aware of their own requirements and energy needs. We the suppliers have to be able to adjust to that. At ZNSHINE SOLAR our core values are flexibility, innovation, integrity and superior customer service. That, combined with our high quality monocrystalline and polycrystalline modules, puts us in a strong position to enter the competitive US market."
The company has doubled sales between 2011 and 2013 and is on target to reach 500 MW of global sales by the end of the year.
About ZNSHINE SOLAR
With a yearly production capacity of 500 MW, a turn-over of 250 million USD (2012), a working force of 700 employees worldwide and production facilities in China, South Africa and Japan, ZNSHINE SOLAR is a leading Chinese manufacturer of mono- and polycrystalline photovoltaic modules founded in 2007 under the flag of ZNSHINE Group. ZNSHINE SOLAR is a vertically integrated manufacturer, allowing all steps of production, from the delivery of the raw silicon to the shipment of complete solar modules, to be carried out in-house. This allows ZNSHINE SOLAR to perform quality control measurements at all production levels and ensure a constantly high quality of the solar modules – both production and quality management processes meet the highest international standards (such as ISO 9001, ISO 14001, OHSAS 18001) and are tested and approved by acknowledged independent certification authorities. For more information please visit www.znshine-solar.com.
Featured Product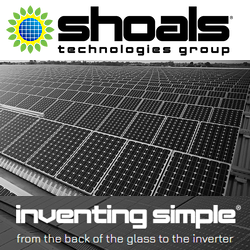 Inventing Simple® isn't just a slogan to us, it's a way of life. Using simple plug-and-play ideology, we revolutionized solar installations in 2003 with our Interconnect Systemâ"¢. Our harnessing system is now the gold standard EPC's use around the world. By using simple ideas, we are making solar energy a more affordable and clean power source for future generations.