Conergy to increase market share to around 20% with large-scale power plant projects
Hamburg / Denver / Bangkok, 24 October 2013 – The PV solution and service provider Conergy is forging ahead on its successful course in Thailand by constructing another large-scale project with a total capacity of 21 megawatts. This is the third consecutive project for the Bangkok-based Siam Solar Energy 1 Co., Ltd. (SSE1), a subsidiary of Thai Solar Energy Company Limited (TSE). Conergy has closed power plants for SSE1 with a total capacity of more than 70 megawatts since the fall of 2012. With an order volume of more than 100 megawatts in Thailand, the PV solution and service provider has secured a market share of around 20% and captured market leadership.

Conergy CEO Comberg: "Solar power plants are an attractive asset for investors."
"We are making good progress in extending our large-scale project business", said Conergy CEO Dr. Philip Comberg. "Solar power plants are becoming an increasingly attractive asset class for funds, financial investors and strategic industrial clients. Together with this group of investors and Kawa as our asset management parent we want to increase our volumes even further, especially in growth markets such as Asia and North America."
The two new solar power plants, each with a capacity of 10.5 megawatts, are located in the provinces of Suphanburi and Kanchanaburi in western Thailand, 130 kilometers from Bangkok. Once again, Conergy acts as general contractor for this large-scale order, assuming responsibility for the entire planning, engineering and design as well as for the supply of the components and the installation. Conergy is working with its longtime local partner Ensys on the construction of the two solar plants, which will cover about 370,000 square meters in total – an area larger than 50 soccer fields.
SSE1 CEO Ms. Cathleen Maleenont: "We place emphasis on 100% quality and efficiency."
"We are delighted about our renewed collaboration. We are impressed with Conergy's leading quality standards with each new power plant," said Cathleen Maleenont, CEO at Siam Solar Energy 1 Co. Ltd. "With this project we will expand our solar capacity to 85 megawatts AC in total. This entails a 17-fold increase in one year. For our solar portfolio, selecting systems with the highest quality and efficiency is paramount and with Conergy we have found exactly the kind of strong partner needed for planning and implementing our solar projects."
Conergy CSO Lohoff: "Conergy's 20% market share is unique in the entire region."
"In Thailand we were one of the market leaders right from the beginning. In the last year we have gradually expanded our market share from 10% to 20%. This is unrivalled, as is our total contract volume in the country, which now exceeds a capacity of 100 megawatts in total", said Marc Lohoff, Conergy Chief Sales Officer for the Asia-Pacific and North America region.
Conergy President Asia Lenz: "Conergy's volume has increased twenty fold since 2010."
"In 2010 the market in Thailand was still in its infancy with about 18 megawatts capacity, but Conergy was already constructing two solar parks in Ayutthaya and Lop Buri with a capacity of more than five megawatts in total," said Alexander Lenz, President of Conergy Asia and Middle East. "The market is now thirty times as large and our volume has increased twenty fold from five to 100 megawatts capacity and we expect further growth in the future."
Conergy plants produce energy for 14,000 Thai households
Once construction for these two new parks is completed in autumn 2013, 84,000 Conergy "P Series" modules installed on more than 80 kilometers of Conergy SolarLinea mounting systems will generate over 30,000 megawatt hours of clean electricity each year. The solar parks can provide for around 14,000 households in Thailand. Additionally they will avoid an annual amount of about 16,500 tons of carbon emissions per year, which is more than what could be absorbed by a 1,600 hectare forest in the same time period.
About Conergy
Conergy is a leading PV Solution and Service Provider and offers its customers tailor made, care-free, high-performance packages – be it for private or commercial roofs or for multi-megawatt installations. As a downstream expert with 350 employees and more than 15 years of experience in the construction photovoltaic plants and all related solar services, Conergy calls upon an unrivalled sales network on five continents with subsidiaries in 11 countries.
Since the third quarter of 2013, Conergy is a company of Kawa Capital Management, Inc., an independent asset management firm based in Miami, Florida, with over $500 million of assets under management. With the strategic acquisition of Conergy Kawa expands its investment portfolio to include the fast growing solar asset class.
Featured Product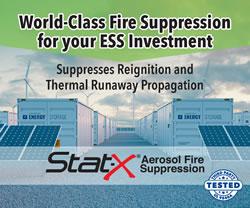 Stat-X® Condensed Aerosol Fire Suppression is a solution for energy storage systems (ESS) and battery energy storage systems (BESS) applications. This includes in-building, containerized, and in-cabinet applications. The Stat-X product was tested for efficacy in putting out Li-ion battery fires. It was found that the Stat-X agent successfully extinguished single and double cell battery fires. This testing was conducted in parallel with a large battery fire testing program. DNV GL Energy conducted the testing and validated effectiveness of the Stat-X aerosol agent on cell level Li-ion battery fires.