Tiger Group's Nov. 13 auction appeals to wide range of companies and plant operators
LOS ANGELES (10/28/13)—Tiger Group's Remarketing Services Division is liquidating the assets of a renewable energy plant in Rialto, Calif., formerly owned by EnerTech Environmental, Inc. In addition to waste water treatment, waste-to-energy and other processing equipment, material-handling equipment, tools and laboratory equipment will be offered at the site of the southern California bio-solids plant. Aaron Equipment Co. Inc., a leader in buying and selling new and used process machinery, is assisting Tiger in this live webcast auction scheduled for November 13.

"A wide range of companies and plant operators – from those involved in wastewater treatment and waste-to-energy projects, to corn milling, seafood and other food-preparation processers – will be interested in the lightly used, late-model equipment offered in this auction," said Jeff Tanenbaum, President of Tiger's Remarketing Services Division.
The $100 million-plus facility was shuttered in October 2012 and includes all intact tanks, conveyors, piping, pumps, and associated systems. Bidders will have the opportunity to purchase the entire facility –which was built to provide a long-term recycling plan for five municipalities in the Los Angeles region by converting their bio-solids into a renewable solid fuel called eFuel – or may bid for individual machinery and equipment.
Scheduled for 10:30 a.m. (PT) on November 13, the live webcast auction on BidSpotter.com will offer the defunct company's two late-model Flottweg Decanter Centrifuges and a natural gas-fired 42-foot by 12-foot diameter 29M BTU/hr rotary drier and such facility and support equipment as a diesel drive centrifugal fire pump system, a 2011 triple chamber RTO system, three 43M BTU/hr cooling tower condensers, four 200hp rotary screw air blowers, laboratory equipment, and more.
The plant and equipment at 503 E Santa Ana Ave., Rialto, Calif. ‎will be available for preview on November 5 and 12 from 9:00 a.m. to 4:00 p.m. (PT); and at other times by appointment only. For a full description of the offering and details on how to schedule a site visit and bid, visit: www.SoldTiger.com.
About Tiger Group
Tiger Group provides asset valuation, advisory and disposition services to a broad range of retail, wholesale, and industrial clients. With over 40 years of experience and significant financial backing, Tiger offers a uniquely nimble combination of expertise, innovation and financial resources to drive results. Tiger's seasoned professionals help clients identify the underlying value of assets, monitor asset risk factors and, when needed, provide capital or convert assets to capital quickly and decisively. Tiger's collaborative, straight-forward approach is the foundation for its many long-term 'partner' relationships and decades of success. Tiger operates main offices in Boston, Los Angeles and New York. To learn more about Tiger, please visit www.TigerGroup.com.
######
Media Contacts: At Tiger Remarketing Services Division, Jeff Tanenbaum, president, (805) 497-4999, jtanenbaum@TigerGroup.com; at Parness & Associates Public Relations, Bill Parness, bparness@parnesspr.com, (732) 290-0121 or Mobile: 732-673-6852.
Featured Product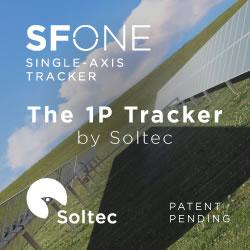 Soltec manufactures and supplies solar trackers designed and proven for extreme climate conditions, which is an ideal solution for any region's environment. Soltec's trackers are self-powered, requiring no additional PV module or grid-powered connection. Bifacial modules collect energy on both the front and rear sides, capturing reflected irradiance from the ground surface under and around the tracker and from other modules. Depending on site conditions, bifacial yield-gain can reach +30 percent.