Sunlabob Renewable Energy and Fondation Energies pour le Monde partner to deliver reliable electricity to 500 residents of remote Lao village
VIENTIANE, LAOS (October 29, 2013) – Sunlabob Renewable Energy and Fondation Energies pour le Monde this week announced the completion of a solar-powered mini-grid that is now delivering reliable, affordable electricity to nearly 500 people in a remote village in Luang Prabang Province, Laos.

Ban Houaypha, a village of 83 households, has limited job opportunities, low income levels, inadequate education and health services and no short-term outlook to receive electricity from the national electricity grid. The average household income is less than $2.50 a day.
The 6.5 kWp solar plant will distribute electricity through a decentralized village grid to households, a community center and five street lights. The Ban Houaypha mini-grid is the first step within the Fondation's long-term rural electrification strategy in Laos that aims to implement 15 solar village grids to provide energy access to at least 10,000 rural Laotians and contribute to the Lao Government's target of 90% electrification by 2020.
"Access to energy is an essential ingredient for the economic and social development of rural, poor communities," said Yves Maigne, director of Fondation Energies pour le Monde, a France-based nonprofit organization focused on renewable energy-based rural electrification.
"Carrying out a viable off-grid solar electrification program is a significant challenge, but Sunlabob's rural expertise and focus on community-level capacity building provide a sustainable model for delivering clean energy to underdeveloped areas like Ban Houaypha," added Maigne.
Sunlabob provided the material supply, system design and installation, as well as the community training to enable a self-sustaining operational model that employs residents of Ban Houaypha on a full-time basis to operate, maintain and manage the community's electricity supply.
"Rural electrification can only be economically and socially sustainable if members of the community are involved and empowered from the start," said Andy Schroeter, CEO and co-founder of Sunlabob, a Laos-based company which has employed its community-based approach to implement rural renewable energy and clean water access throughout Asia, Africa, India and the Pacific.
The Fondation in coordination with provincial and national government authorities, is actively leading the SELAO initiative (Scaling-up Electrification and Local Capacity Building for Rural Areas of Luang Prabang Province), to enable rural electricity access and catalyze the potential for better economic, education and healthcare opportunities in rural, poor communities.
"This new source of electricity helps our community have a more modern way of life," said Mr. Oumpeng Wongpaseu, the village's head of the Lao Youth Union.
The Ban Houaypha project marks the second time the Fondation and Sunlabob have partnered to provide renewable energy in remote areas of Laos. In 2009, the two organizations worked in cooperation to deliver a solar-powered village grid to Ban Phakeo, a rural community of around 100 households in Luang Prabang Province.
###
About Sunlabob Renewable Energy
Sunlabob Renewable Energy, Ltd. is a Laos-based company specializing in renewable energy and clean water solutions throughout developing areas of the world. The company offers a range of on- and off-grid products and services, ranging from hybrid mini-grids and solar home systems, to energy efficiency consulting and water pumping and purification. Founded in 2000, Sunlabob is recognized globally for its innovative operational and financing models to enable clean energy and water access in remote areas of Southeast Asia, Africa, India and the Pacific region.
For more information please visit www.sunlabob.com. You can also keep in touch with Sunlabob through https://twitter.com/Sunlaboband http://www.facebook.com/Sunlabob
About Fondation Energies pour le Monde
Fondation Energies pour le Monde, based in Paris, France, was founded in 1990. Its objective is to bring electricity to remote rural villages, using the best options among renewable local energy sources (solar, wind, hydro). Thanks to its Noria rural electricity planning methodology, more than 1,000,000 people have benefited from its actions in Southeast Asia, Africa and Madagascar. For more information, www.energies-renouvelables.org
Featured Product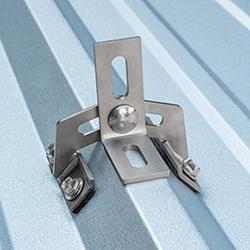 Error-Proof Compression: The QB2 doesn't leave any room for user error when it comes to Microflashing® compression. Once the Dual Drive Shoulder Screw is secured, the Microflashing® is compressed. Only 3 Components: The QB2 is comprised of Microflashing®, an L-foot and a Dual Drive Shoulder Screw. No more Nuts needed to tighten and secure the L-foot! Not only does this simplify the installation process, it also cuts down the installation time.