Momentum is building around the country's introductory tender round for PV projects early next year.
El Segundo, Calif. (Oct. 30, 2013)—As Saudi Arabia seeks bidders for its ambitious solar projects, the country stands to benefit enormously from plunging costs for photovoltaic (PV) technology—if the nation plays it smart, according to IHS Inc. (NYSE: IHS).

Momentum is building around the country's introductory tender round for PV projects early next year. These tenders represent an important first step in the country's goal of generating one-third of its electricity from solar power in 2032.
IHS predicts that Saudi Arabia will install 1,481 megawatts (MW) worth of PV systems from 2013 through 2017, as presented in the attached figure. This will make the country the third-largest nation in the Africa and Middle East region in terms of PV installations, with an 18 percent share from 2013 to 2017. Saudi Arabia will trail South Africa and Israel, which will account for 31 percent and 21 percent, respectively.
Saudi Arabia's bold initiatives come at a time when PV module costs are dropping, making large-scale solar systems more affordable. The average selling price (ASP) for solar modules is expected to dive to $0.38 per watt in 2023, down nearly 50 percent from $0.73 in 2012.
The initial tender aims to procure renewable power-generation capacity in the range of 500 megawatts MW to 800 MW.
However, this tender will require bidders to strike a balance between locally manufactured content and competitive bid prices. Such an onerous condition could prevent Saudi Arabia from capitalizing on the pricing reductions going on for modules—and from attaining its goals.
"The outcome of this first tender in Saudi Arabia will serve as a benchmark for future tender rounds," said Henning Wicht, Ph.D., senior director of solar research for IHS. "Expected technology costs are poised to play a key role in determining the success of this tender. While PV module production costs are expected to drop by half during the next decade, for Saudi Arabia to benefit from global price reductions its supply chain for modules must be transparent and not overruled by mandates for local content."
Desert heat
Having announced a 16-gigawatt PV target by 2032, Saudi Arabia is emerging as a new hot spot in the Middle East and Africa region. Along with Israel and South Africa, Saudi Arabia has the most developed ambitions on renewable power in the area.
"Saudi Arabia is definitely a market to watch," said Josefin Berg, senior analyst for solar at IHS. "However, this market is still in flux as the time frame and requirements for the planned tenders remain under consultation."
IHS shines light on solar technology costs at conference
Dr. Wicht will detail the impact that technology costs can have on the Saudi PV market in his speech at the upcoming Desert Solar in Saudi Arabia conference on Wednesday, Nov. 13. The conference is part of the International Solar PV Trade Mission: Saudi Arabia event.
During the one-day Desert Solar conference, experts will discuss practical business cases in relation to the operation and maintenance of PV plants in the desert, an area that requires more attention than any other PV application. Other topics will explore the financial conditions for PV power-plant development in the kingdom, and lessons gained from operating PV plants in U.S. deserts.
Featured Product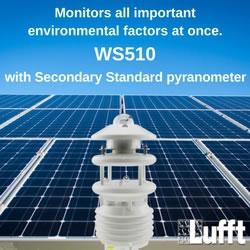 Professional weather sensors form the heart of large solar plants supporting their operation and performance. Lufft was the first manufacturer to combine several sensors in one housing, bringing the largest multiparameter weather sensor family with 19 members into being. Many of them are well-suited for solar site assessment and continuous monitoring. The most commonly used one is the WS600 delivering data on temperature, air pressure, wind, relative humidity and precipitation. Through its open protocol, it can easily be attached to radiation sensors e.g. from Kipp&Zonen. Other models have an integrated Silicon, Second Class or Secondary Standard radiation sensor.