March 25 - 27, 2014 at the fairgrounds in Düsseldorf, Germany
Commercial applications and innovative new energy storage solutions and market developments will be the focus of the third annual Energy Storage - International Conference and Exhibition for the Storage of Renewable Energies (Energy Storage 2014), to be held from March 25 - 27, 2014 at the fairgrounds in Düsseldorf, Germany. Sponsor and exhibitor registration for Energy Storage 2014 is now open at www.energy-storage-online.com.

This unique annual event organized by Messe Düsseldorf will highlight marketable applications of energy storage, with a focus on the role of energy storage in the electric power sector, including renewable energy integration. Professor Eicke R. Weber, President of the German Energy Storage Association (BVES), Speaker for the Fraunhofer Energy Alliance and Director of the Fraunhofer Institute for Solar Energy Systems, will again act as Chairman of the Conference Program Committee.
Leaders and innovators from across industries, government and research are invited to Energy Storage 2014 to share ideas and build the global energy storage market. The program will include presentations from industry leaders and policy makers as well as successful energy storage case studies featuring practical lessons and key success factors. On-site workshops will deliver cutting edge insights into energy storage markets and applications. The exposition will provide an ideal opportunity to educate a broad stakeholder group about new energy storage developments, innovative products and business models - while networking with targeted decision-makers across many applications of energy storage.
Energy Storage Europe 2014 builds on a successful track record: Energy Storage 2012 and 2013. With more than 530 participants and 45 exhibitors from 33 countries, Energy Storage 2013 was widely recognized as one of the most important meetings in the European energy storage industry. Many key decision-makers, including Germany's Federal Minister of the Environment, Peter Altmaier, attended.
The Düsseldorf Energy Storage Conference and Expo concept has been launched in several other key energy storage markets globally, with local partners, under Messe Dusseldorf's World of Energy Storage program. The only global network for energy storage deal making, education and networking. The first staging of Energy Storage North America (ESNA) in September 2013 at the San Jose Convention Center in California ended very successfully. A total of 750 attendees took part and 43 exhibitors demonstrated innovative technologies and applications (www.esnaexpo.com). Energy Storage India (ESI) will premiere from December 4 - 6, 2013 in Mumbai (www.esiexpo.in) and Energy Storage China (ESC) is scheduled for June 23 - 24, 2014 in Beijing.
For information on visiting or exhibiting at Energy Storage Europe 2014 or any of the other energy storage conferences and trade fairs in the Messe Düsseldorf program, contact Messe Düsseldorf North America, 150 North Michigan Avenue, Suite 2920, Chicago, IL 60601. Telephone: (312) 781-5180; Fax: (312) 781-5188; E-mail: info@mdna.com; Visit our web sites http://www.mdna.com and www.worldenergystorage.com; Subscribe to our blog at http://blog.mdna.com; Follow us on twitter at http://twitter.com/EnergyStorageNA
Featured Product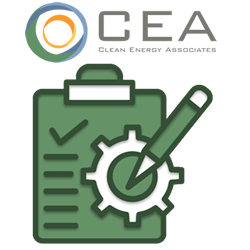 Clean Energy Associates provides a complete quality assurance solution that covers the entire product lifecycle of PV modules, storage systems, and every Balance of Sy stem (BOS) component. CEA's experienced on-the-ground and international team of quality control engineers and account managers offer an unparalleled quality assurance presence that can protect solar and storage investments and ensure future energy-producing viability for the life of the product.