Lux Research Q3 2013 recognition includes energy storage leader
GLENDALE, CA. (October 30, 2013) – Ice Energy, a provider of distributed energy storage and smart grid solutions, was named as a top ten company in Lux Research's Top Innovators from Q3 2013.

Selected by analysts, the list recognizes companies whose performances indicated a "near-term growth opportunity" that large companies could capitalize on across energy and other industries. The list was developed from a number of factors and resources including:
* Primary research
* Expertise of Lux Research analysts
* The "Lux Take" score ranging from "Strong Caution" to "Strong Positive" to provide a bottom-line rating of contenders
"After ten years and 15 million hours of energy storage delivered, it's great to be at this point where Ice Energy is able to be used innovatively in ways that meet utility needs for storage," said Mike Hopkins, Ice Energy EVP Corporate Development & Legal.
The recognition from Lux Research comes on the heels of Ice Energy recently winning the Innovation Award from Energy Storage North America (ESNA) for a Thermal Energy Storage program with the Southern California Public Power Authority (SCPPA), which involves Ice Bear installations at 200 customer facilities, totaling 2.5. MW, or 15 MWh of rated capacity to the grid.
To learn more about Ice Energy, please visit www.ice-energy.com and follow them on Twitter, at @IceENRG.
About Ice Energy
Ice Energy delivers distributed energy storage and smart grid solutions that are the least cost, most reliable, most efficient and truly green solutions available to utilities today. The company's smart grid platform integrates distributed energy storage technology with an advanced software infrastructure and intelligent two-way control to provide utilities with a fully dispatchable grid asset that can be rapidly deployed at any scale.
By leveraging the higher efficiencies associated with generating and transmitting power off-peak, storing it at thousands of distributed locations, and dispatching it during times of peak demand, Ice Energy's distributed energy storage system represents a transformational new energy solution for the industry. Ice Energy is headquartered in Glendale, Calif. For more information, visit www.ice-energy.com.
Featured Product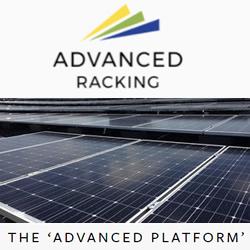 The 'Advanced Platform' simplifies the installation process by using universal mounting hardware that works perfectly across all roof types. Smart roof connection kits then connect to the specific roof's surface. The Advanced Platform is versatile: Our common design can be your single solution for all roof types.