Join us for this two-day exciting event and enjoy informal discussions, interactive Q&As, a facility tour (AVL full-vehicle test bed), an evening cocktails reception, complimentary meals, networking, and much more. Event includes an exclusive Venture Panel focusing on the battery industry.
Join us for an exciting, two-day seminar on January 28 & 29, 2014 in Metro Los Angeles area (California, USA) featuring numerous sessions presented by industry subject matter expert and guest speakers on super capacitors, battery solutions, challenges, and new energy storage technologies. Enjoy informal discussions, interactive Q&As, a facility tour, an evening cocktails reception, complimentary meals, networking, and much more.

Guest speakers and subject matter experts come from industry and academia, including Valence Technology, Netzsch Instruments, CAP-XX and Wildcat Discovery Technologies just to name a few.
The event will also host an exclusive, half-day Venture Panel session where top tier VCs, Angel Investors & Senior Executives will discusson the key issues facing Investors and Startup CEOs alike. Industry experts will provide updated analyses and share their experience with the audience. Also, discover some of the hottest early stage companies showcasing their promising technologies and innovations in the battery and energy storage industries as they present live to leading investors. If you are an investor seeking access to new early stage deals, or a CEO or Founder of a new venture looking for funding, visibility and growth, this is an event that you do not want to miss!
Avail of early bird registration discount rates till November 29, 2013.
--------------------------------------------------------------------------------
This is a unique event where an industry veteran electro-chemist - Dr. Paul Gifford - will be speaking on several aspects of battery design, raw materials, and some recent R&D efforts in Li Ion batteries. He's an independent consultant with an unbiased opinion, and is not associated with any specific battery technology or company. Day 1 also offers a facility tour, providing an exclusive inside look at AVL's CTC capabilities (full vehicle test bed), and an opportunity to interface with development experts during the Cocktail Reception. Day 2 will host a session providing a comprehensive overview on Advanced Development Methodologies for Hybrid Vehicles.
This two-day battery seminar will be held at AVL - a supporting organization for this event - at their Metro Los Angeles California Technology Center (CTC) at 25111 Arctic Ocean Drive, Lake Forest, CA 92630 U.S.A.
Limited sponsorship opportunities are available for lunches, seminar bags, lanyard/registration badges and literature distribution. For additional details, complete program agenda and seminar registration form please visit:
http://plugvolt.com/blog/category/seminars/
Questions? Visit www.plugvolt.com for more details, or contact us at 1-877-PLUGVOLT (1-877-758-4865)
Featured Product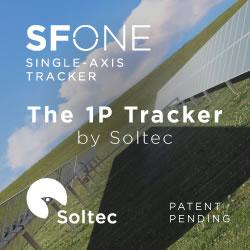 Under the slogan "engineered for greatness", the SF8 tracker aims to revolutionize the photovoltaic market with its new minimum 2x60 configuration and 4 to 6-strings. This tracker is elegantly designed while it reinforces its structure to perform in any terrain. In addition, the SF8 tracker increases the rigidity of its structure by 22% more than the previous generation of Soltec trackers, the SF7. The SF8 is specially designed for larger 72 and 78 cell modules, an increasing market trend.