Storage Showcased in Ceremony Celebrating Clean Energy, Climate Resilience & Preparedness
Washington, D.C. – An energy storage small business leader was featured today by the White House. Adam Cote, CEO of Thermal Energy Storage of Maine, was one of twelve people honored as a "Champion of Change" in an event to celebrate American veterans of Iraq and Afghanistan who are working to advance clean energy and increase climate resilience and preparedness in their communities.

Cote is currently deployed to Afghanistan as a Company Commander of the Maine Army National Guard 133rd Engineering Battalion's Task Force Black Bear.
"The Electricity Storage Association is thrilled that an energy storage company CEO is being honored at this event," stated Katherine Hamilton, ESA's Policy Director, who attended the ceremony. "Thermal Energy Storage of Maine's innovative energy storage applications lower customers' energy costs while providing valuable grid services. We thank Captain Cote for his service and look forward to working with him to further deploy this powerful technology."
Background Information on Energy Storage:
· The California Public Utilities Commission (CPUC) unanimously passed a proposed target for procurement of 1.3 gigawatts of energy storage by 2020 from the state's three investor-owned utilities, aggregators, and other energy service providers.
· Sixty million Americans in thirteen Mid-Atlantic States plus the District of Columbia are saving money because energy storage systems are delivering frequency regulation services in PJM territory.
· FERC issued order 755, a "pay-for-performance" rule that reflects the high value of energy storage systems in providing extremely fast and accurate response to a power dispatchers signals in the ancillary services markets.
· FERC is currently considering proposals that will allow the benefits of energy storage to enter additional competitive energy markets.
For more information about electricity storage, go to www.electricitystorage.org
Featured Product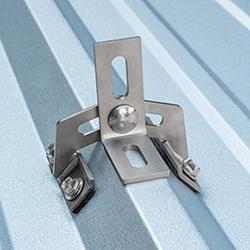 They have been changing the game for 10 years with their original Top Mount line for Asphalt Shingle roofs, and by now supplying one of the widest ranges of solar mounts in North America. From their patented products, to the custom production services they offer, QuickBOLT has been working with solar installers for nearly a decade to make solar installations easier than ever before.