The advancement of mobile technology in the past decade has transformed the way people function in their daily lives. Global wireless networks now facilitate more than 7-billion connections daily, redefining the way people and businesses communicate and process information.
VANCOUVER, CANADA – The advancement of mobile technology in the past decade has transformed the way people function in their daily lives. Global wireless networks now facilitate more than 7-billion connections daily, redefining the way people and businesses communicate and process information.

WIRELESS GROWTH
According to Cisco Systems, global mobile traffic grew 70% last year alone – across more than 4.5-million base station sites – and is expected to continue increasing rapidly over the next decade, driven by explosive growth in video content, machine-to-machine connectivity as well as other new business and consumer applications.
Smartphones allow us to be more connected than ever before, with social media, 'apps' and email available to us at all times. Globally, an eMarketer survey found that the smartphone penetration rate among mobile users is almost 33% today, with an expectation that it will approach 50% by 2017. From healthcare to education and transportation, the addition of sophisticated mobile communication uses has established a rapid trajectory for 'Connected Life' communications. As Cisco Systems states, "Consumers demand more high-quality media every day, on any device."
The benefits of a Connected Life are numerous, and will be realized as new applications are implemented. For instance –
• According to PriceWaterhouseCoopers, mobile technology could help reduce rising healthcare costs by more than US$400 billion in OECD countries by 2017, through the connection of patients to doctors and the use of shared digital medical files; and
• In the transportation sector, studies indicate that emergency response times could be reduced by 40–50% through mobile-enabled in-car call services, capable of broadcasting life-saving information – for instance, transmission of an accident location to the nearest emergency service provider.
The total addressable market available to mobile operators, driven by the growth in devices and Connected Life traffic volume, is expected to be US$1.3 trillion by 2020.
NETWORK CONTINUITY
A truly Connected Life is reliant on two things: large numbers of enabled devices; and reliable network connectivity. We discussed the growth in subscribers (and devices) in the foregoing section.
Unfortunately, however, much of the world's power grid is susceptible to outages – either because the infrastructure is in poor condition or as a result of natural disasters (such as the tsunami in Indonesia or earthquakes like the one that occurred recently in China's Sichuan Province). At such times, connectivity is essential to support mission-critical emergency services and communications. However, without stable power systems or reliable Telecom Backup Power systems in-place, essential wireless connectivity may not be maintained and important benefits of the Connected Life may not be available — at critical times.
While network outages are not 100% preventable, there are steps telecommunications companies can take to 'harden' their networks in order to prevent prolonged downtime … and, some network providers are taking these steps now. Increasingly, fuel cell powered Telecom Backup Power products are playing a critical role in supporting Connected Life by ensuring consistent uptime in markets with unreliable electricity grids and in markets that have more reliable grids, yet are vulnerable to extended power outages in crisis situations.
During the crisis presented by Hurricane Sandy in 2012, for example, Ballard's ElectraGen™-ME methanol fuel cell systems performed exactly as designed, providing critical electricity to the Bahamas Telecommunications Company (BTC) network when the storm downed power lines and cut off grid power. As a group, these 17 systems provided the equivalent of one month of backup power over a concentrated 7 day period during and after the storm, keeping the communications network up and running for people in the Bahamas when they needed it most.
Another example is in Japan, where wireless service providers are working to harden their networks following the 2011 earthquake and tsunami — including deployment of over 300 Ballard fuel cell Backup Power systems this year.
FUEL CELL TELECOM BACKUP POWER
Ballard's ElectraGenTM Telecom Backup Power systems offer an economical, low maintenance and modular Backup Power solution for the telecom market. Customization options enable the flexibility customers demand, including: both direct hydrogen and methanol fuelled products; a range of power options; as well as indoor and outdoor versions –
• ElectraGen™-ME systems run on reformed methanol fuel and are particularly well suited for 'extended duration runtime' Backup Power requirements. These systems are designed for high reliability, long life and minimal ongoing maintenance. Systems include a fuel reformer that converts methanol into hydrogen gas to power the fuel cell system.
• ElectraGen™-H2 systems are modular and scalable Backup Power solutions using hydrogen fuel cell technology and direct hydrogen fuel, with a fully integrated power management system. These systems are an ideal way to cost-effectively meet Backup Power requirements where business continuity is critical.
Ballard Power Systems
Ballard Power Systems (TSX: BLD) (NASDAQ: BLDP) provides clean energy fuel cell products enabling optimized power systems for a range of applications. Products deliver incomparable performance, durability and versatility. To learn more about Ballard, please visit www.ballard.com
Featured Product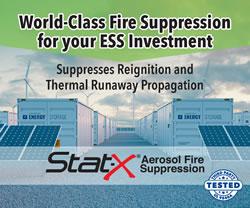 Stat-X® Condensed Aerosol Fire Suppression is a solution for energy storage systems (ESS) and battery energy storage systems (BESS) applications. This includes in-building, containerized, and in-cabinet applications. The Stat-X product was tested for efficacy in putting out Li-ion battery fires. It was found that the Stat-X agent successfully extinguished single and double cell battery fires. This testing was conducted in parallel with a large battery fire testing program. DNV GL Energy conducted the testing and validated effectiveness of the Stat-X aerosol agent on cell level Li-ion battery fires.