Leading UK heat pump specialist Econic are to launch a year long programme of Webinars.
Leading UK heat pump specialist Econic has responded to increasing demand for the innovative renewable technology by announcing a year-long programme of webinars to help potential clients, consultants and architects.

Econic, a Myriad CEG company, is one of the UK's leading designers and installers of innovative ground source heat pump (GSHP) solutions for heating and cooling projects across the country.
Its webinars will highlight a range of issues as well as how the renewable energy technology can cut carbon emissions and save money.
Dozens of people, from consultants and engineers to managers and private individuals, joined Econic's presenters during successful webinars held earlier this year.
Econic Managing Director Rob Gardiner announced the new, year-long series of events in response to interest and requests from across the UK and America.
The next webinar will deal with the Implications of Parasitic Loads on Efficient System Design and will start at 1pm on Monday, November 25.
Rob Gardiner said: "Our technology and expertise continues to grow and our innovative approach, coupled with a strong record of delivery, is the basis for our continuing success in winning contracts. Our clients trust our technical knowledge and ability to deliver credible and practical solutions, whilst remaining competitive.
"There is no doubt the RHI tariff changes are playing a major part in the increasing interest in the technologies we offer. RHI will continue to be a strong driving force for the sector.
"Potential clients can now clearly see the benefits of ground pump technology as a long-term source of their energy needs.
"We are finding that people are increasingly seeing the benefit of informative sessions but find it difficult to get away from the office. Webinars are proving to be an efficient way of reaching those who are interested in learning from our expertise.
"We are also keen to hear from interested parties if there are particular topics they would like us to cover in our webinars."
Econic's webinars are scheduled to be held at 1pm on the last Monday of the month, excluding December.
The first heat pump webinar of 2014 will be on Monday, January 27 and will focus on Considerations with Simultaneous Heating and Cooling.
Webinars in the following months will cover Thermal Storage Systems, Process for Evaluation and Selection of Heat Exchangers and Use of Commercially Available Ground Energy Collector (GEC) Software Programmes.
You can sign up for the webinars up to two months in advance at
http://www.myriadceg.com/heat-pumps/webinar-registration/
In addition to heat pumps, Myriad CEG also provides biomass heating systems and solar PV systems. For more information, please see www.myriadceg.com.
ENDS
Issued on behalf of Myriad CEG
For further information, please contact:
Andrew Turner or Richard Baguley
GDR Public Relations Ltd
Tel: 01253-600800, 07961-556391 or 07715-373166
Featured Product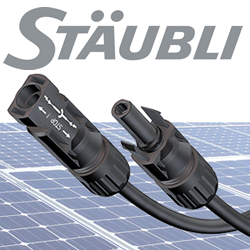 ​Stäubli Electrical Connectors are used on more than 300 GW, over 50% of the PV capacity worldwide. The MC4 family of UL and TUV listed products include connectors, in-line fuses, branch connectors, cable assembly and more.