California continues to lead U.S solar industry adding 53 percent in Q2 of new solar capacity in United States and launching ground-breaking energy storage program
SAN FRANCISCO, Nov. 6, 2013 -- Prominent solar industry executives, policymakers, innovators and thought leaders will return to San Francisco for the seventh year in a row for Intersolar North America, the most attended industry exhibition and conference for solar professionals to exchange information and develop business connections in North America, held July 7 to 10, 2014 at the Moscone Center. In the heart of the United States' largest solar market, the event will showcase the latest innovations in solar technology, from modules to balance of system components to energy storage solutions, and will feature in-depth discussions on the latest financing and policy initiatives in California and beyond.

California continues to lead the U.S. solar market in terms of installed capacity, and added 521 megawatts in new solar PV capacity during the second quarter of 2013, according to EuPD Research. The state is expected to add more than 1 GW of new solar installations by the end of the year. Recently passed legislation, such as AB 327, which redefines net metering and residential electricity rate structures, and a statewide energy storage mandate from the California Public Utilities Commission, have reaffirmed the state as a hotbed for innovative financing and incentive programs designed to accelerate solar adoption in California and nationwide.
"Looking ahead to 2014, California will once again be the most interesting and dynamic market for solar. All eyes will be on San Francisco as we take the lead in mapping out how to create an uncapped rooftop solar market that can drive robust growth in all sectors of the market, residential and commercial, while sustaining a healthy, diverse solar industry," said Bernadette Del Chiaro executive director of CALSEIA. "California will also be the place to watch for advancements on electric cars, energy storage, soft cost reductions, and financing models that can help sustain a growing market in the years ahead. Once again, Intersolar North America will be the place to be to stay on top of the most important developments in solar power."
Cost-effective energy storage solutions will be key to increasing the amount of solar power on the grid in California. The state's ambitious energy storage program requires its three largest utilities to expand their energy storage capacity in order to boost renewable energy connected to the grid. The three utilities must collectively buy 1.3 gigawatts of energy storage capacity by the end of 2020. This mandate will generate demand for promising storage technologies.
Building on the debut of its impressive energy storage exhibition segment, Intersolar North America will expand the exhibition and conference's focus on storage technologies in 2014. Last year, more than 40 companies showcased the latest in energy storage solutions, including batteries, fuel cells and thermal storage systems. In the United States alone, the grid storage market could reach 4 GW by 2016.
Companies interested in exhibiting at Intersolar North America can find more information online.
Working closely with partners like CALSEIA, Intersolar North America is designing a robust conference program that will highlight the latest market developments impacting the United States market, as well as the global adoption of solar. Other topics the conference will focus on include solar financing, E-Mobility, project development challenges and the ever-popular sessions on PV technologies. The conference routinely attracts executives from leading solar companies across the world, and will open its call for speakers in mid-December.
About Intersolar North America
With events spanning four continents, Intersolar is the world's leading exhibition series for the solar industry and its partners. It unites people and companies from around the world with the aim of increasing the share of solar power in our energy supply.
Intersolar North America takes place annually in San Francisco's Moscone Center. Since its establishment in 2008, the exhibition and conference have developed into the premier platform for the solar industry in North America. The exhibition focuses on the areas of photovoltaics, PV production technologies, energy storage and solar thermal technologies. It is co-located with SEMICON West and, since its founding, has become the international industry's meeting point for manufacturers, suppliers, distributors, service providers and partners of the solar industry.
In total, 576 exhibitors and 17,881 trade visitors participated in 2013. The conference featured more than 50 sessions with over 200 speakers and catered to about 1,600 conference attendees.
Intersolar's storied history of international exhibitions and conferences spans more than 20 years. Taking place in addition to Intersolar North America in San Francisco are Intersolar India in Mumbai, Intersolar China in Beijing, and Intersolar South America in Sao Paulo. The world's largest exhibition for the solar industry is Intersolar Europe in Munich.
For more information on Intersolar North America please visit: http://www.intersolar.us/
Featured Product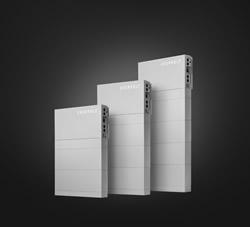 Offer homeowners best-in-class solar and energy storage in one money-saving bundle. Panasonic's new EverVolt™ Series modules come in 350W, 360W, 370W & 380W models and work seamlessly with their EverVolt battery storage - all warrantied by one of America's most trusted brands.