Under the contract, Eaton will provide existing condition surveys, system designs, installation and commissioning for energy efficiency and renewable energy projects.
PITTSBURGH … Power management company Eaton today announced it has been contracted by the U.S. Army Corps of Engineers, Engineering and Support Center, Huntsville, to help advance energy conservation and implementation of alternative energy projects at U.S. Army-operated facilities around the world. Eaton is one of 11 companies to receive the $600 million shared capacity multiple award task order contract.

"Drawing on our proven record of successful energy projects with major government customers, Eaton is well positioned to help the U.S. Army reduceoperating costs and increase electrical resilience in the U.S. and abroad," said John Stampfel, vice president and general manager, Electrical Engineering Services and Systems Division, Eaton.
Under the contract, Eaton will provide existing condition surveys, system designs, installation and commissioning for energy efficiency and renewable energy projects. Planned projects include, but are not limited to, the implementation of solar and wind generation, geothermal heating, lighting retrofits, and energy monitoring and control systems. The services entail aproject scope of one base year, with four optional years to include all design and construction work.
The contract is one of several recently awarded to Eaton from government organizations, including $35 million to evaluate electrical systems at U.S.Department of Defense facilities, $10 million in retro-commissioning services for U.S. Department of Veterans Affairs medical campuses, and $3.2 million to evaluate and modernize lighting systems at the Pentagon in Washington, D.C.
The project will be led by Eaton's Electrical Engineering Services and Systems Division and its Energy Solutions Group, which performs energy-focused engineering, construction, and consulting services for a wide range of market segments, including government, health care, education, utilities, commercial, industrial and other institutional facilities. Eaton provides a comprehensive portfolio of services tailored for every stage of a power system's lifecycle, including design, build and support. To learn more, visit www.eaton.com/eess.
Eaton's electrical business is a global leader with expertise in power distribution and circuit protection; backup power protection; control and automation; lighting and security; structural solutions and wiring devices;solutions for harsh and hazardous environments; and engineering services. Eaton is positioned through its global solutions to answer today's most critical electrical power management challenges.
Eaton is a power management company providing energy-efficient solutions that help our customers effectively manage electrical, hydraulic and mechanical power. A global technology leader, Eaton acquired Cooper Industries plc in November 2012. The 2012 revenue of the combined companies was $21.8 billion on a pro forma basis. Eaton has approximately 102,000 employees and sells products to customers in more than 175 countries. For more information, visit www.eaton.com
Featured Product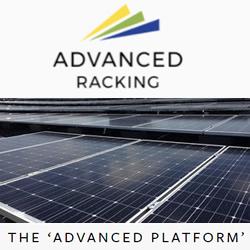 The 'Advanced Platform' simplifies the installation process by using universal mounting hardware that works perfectly across all roof types. Smart roof connection kits then connect to the specific roof's surface. The Advanced Platform is versatile: Our common design can be your single solution for all roof types.