20 MW of modules will be delivered in December 2013, and 50 MW will be delivered in the first quarter of 2014
SHANGHAI, China, Nov. 11, 2013 -- JA Solar Holdings Co.,

Ltd. (Nasdaq:JASO) ("JA Solar" or the "Company"), one of the world's largest
manufacturers of high-performance solar power products, today announced that
it has signed two agreements to supply a total of
70 MW of high-efficiency polycrystalline solar modules to Shanghai CSET Co.,
Ltd., a photovoltaic ("PV") system integrator focused on the planning,
design and operation of solar PV stations, for two commercial rooftop
projects in China.
According to the agreements, 20 MW of modules will be delivered in December
2013, and 50 MW will be delivered in the first quarter of 2014. The projects
will utilize JA Solar's high-efficiency polycrystalline modules with an
average power output of between 255 W and 260 W in a 60-cell format, which
are among the most powerful modules of their kind on the market. The
contract amount will be paid in full prior to delivery.
"This agreement is another sign of improving industry fundamentals and
strong demand from the China market, which is expected to continue to grow
rapidly in the next few years," said Mr. Baofang Jin, executive chairman and
CEO of JA Solar. "JA Solar's superior product offerings and our strong
relationships with project developers in China ensure we are well positioned
to benefit from this growth."
Featured Product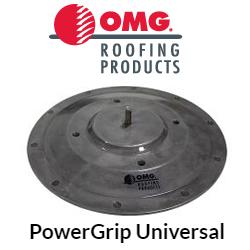 PowerGrip Plus Roof Mount System, a watertight structural attachment system used to secure ballasted solar racks and other equipment to roofs covered with thermoplastic (TPO and PVC) membranes. PowerGrip Plus is designed with wind performance in mind and offers ultimate tensile strength of 2,000 lbf. and ultimate shear strength of 1,075 lbf. Properly installed PowerGrip Plus units reduce rack movement and remaining watertight. PowerGrip Plus units are easy to install, saving both time and labor when compared to alternative options. A wide membrane skirt promotes easy welding in place, and the 15/8 diameter and 1/2 inch tall mount provides an optimal perch for securing brackets or struts. The exposed 1 inch tall and 3/8 inch diameter bolt and mounting stand are made from corrosion-resistant stainless steel and aluminum alloy for superior long-term performance.