Developer of breakthrough 3-dimensional solar cell signs definitive purchase agreement to acquire 100% of California-based solar systems provider
Santa Barbara, CA – November 6, 2013 – Solar3D, Inc. (OTC: SLTD), the developer of a breakthrough 3-dimensional solar cell technology to maximize the conversion of sunlight into electricity, today announced that it has signed a definitive purchase agreement to acquire 100% of Solar United Networks, Inc., (SUNworks), a rapidly growing provider of solar systems, based in Roseville, California.

SUNworks, focused on the design, installation and management of solar systems for commercial customers, is one of the fastest growing solar systems providers in California. SUNworks has delivered hundreds of 2.5 kilowatt to 1-megawatt commercial systems and has the capability to deliver systems as big as 25 megawatts. Its revenue for 2013 is estimated to be in excess of $7,500,000, with estimated pre-tax profits of almost $1,000,000.
After the acquisition, SUNworks will continue operations as a wholly owned subsidiary of Solar3D.
According to the recent U.S. Solar Market Insight report by GTM Research and SEIA, the United States is now one of the fastest growing solar markets in the world, with a solar system installed every 4 minutes. The U.S. solar market is poised to grow 30% annually, with a forecast of over 1 million solar installations by 2016. According to SEIA, the solar installations industry was valued at $11.5 billion in 2012, up from $6 billion in 2010. The fastest growing regional market for solar installation is Solar3D's home state of California, accounting for nearly half of all U.S. solar installations.
"Acquiring SUNworks is a key part of our strategy going forward and gets us face to face with solar end-users every day," said Jim Nelson, CEO of Solar3D. "We plan to keep our technology team focused on the commercialization of our breakthrough Solar3D Cell. However, the opportunity represented by SUNworks allows us to immediately participate in the fastest growing segment of the solar industry, while building a growing base of customers for our proprietary Solar3D Cell. The SUNworks team is seasoned and proven, and will be the cornerstone of a powerful supplier of solar systems. Building this line of business will be a key mission of the new Solar3D. Through organic growth and additional acquisitions, we plan to turn the solar systems part of our company into one of the fastest growing players in the industry."
Emil Beitpolous, President of SUNworks, said, "Joining Solar3D will allow SUNworks to expand even more aggressively. We share the strategy of connecting with the customer at the end-user level to provide high quality, affordable solar solutions. Solar3D provides the vision and partnership commitment that will help us become an even greater force in our industry."
Nelson concluded, "One of the few things on which Wall Street and the federal government agree is that solar will be the fastest growing business in the world for years to come. Solar3D has management strength and access to capital resources that will enable us to build a substantial solar solutions business, while we continue to focus on the big prize — a proprietary Solar3D Cell. In this regard, we are following the First Solar model where proprietary technology and system installations are synergistically linked to maximize shareholder value."
The closing of the acquisition, as described in the definitive purchase agreement, is subject to Solar3D's satisfactory review of the operations and financial and corporate records of SUNworks.
About Solar3D, Inc.
Solar3D, Inc. is developing a breakthrough 3-dimensional solar cell technology to maximize the conversion of sunlight into electricity. Up to 30% of incident sunlight is currently reflected off the surface of conventional solar cells, and more is lost inside the solar cell materials. Inspired by light management techniques used in fiber optic devices, our innovative solar cell technology utilizes a 3-dimensional design to trap sunlight inside micro-photovoltaic structures where photons bounce around until they are converted into electrons. An innovative wide-angle light collection feature on the cell surface allows for the collection of sunlight over a range of angles during the day. This next generation solar cell is designed to be dramatically more efficient, resulting in a lower cost per watt that will make solar power affordable for the world. To learn more about Solar3D, please visit our website at http://www.Solar3D.com.
Featured Product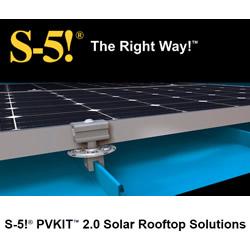 The concept of combining PV arrays with standing seam metal roofing is growing-for good reasons. Metal roofs have a life expectancy of more than 40 years. Shouldn't the mounting system last as long? With S-5! zero-penetration attachment technology and PVKIT 2.0, the solarized metal roof is the most sustainable system available -and without compromising roof warranties! PVKIT 2.0 is the also the best solution for attaching PV modules directly to any exposed fastener metal roof.