BWP's proprietary technologies represent significant advancements in electric machine design
LOUISVILLE, Colo., Nov. 18, 2013 -- Boulder Wind Power (BWP) announced completion of a third-party review of its wind power technologies and cost of energy (COE) model. The independent assessment analyzed the technological and commercial risks associated with BWP's direct drive generator, and resulted in an estimated 12-22 percent cost of energy advantage relative to four of the industry's most common drivetrains.

"BWP's proprietary technologies represent significant advancements in electric machine design, with our expertise in printed circuit board electromagnetic circuits, advanced magnetics design and advanced structures. BWP's first implementation of its technology, a 3MW direct drive generator and full power converter, has the potential to dramatically lower the cost of wind energy by producing energy with lower capital costs and improved reliability," stated BWP Chief Commercial Officer John Fedorko.
In addition to providing guidance on the COE model, the review investigated BWP's systems and sub-systems, focusing on considerations from broader BWP technology development processes to individual component reliability. The review addressed the risks inherent in bringing new technology to the wind power market while showing that BWP's knowledge base and approach to magnetics, mechanical structures and printed circuit boards are sound and exemplary.
"For wind power technology companies, third-party expert analysis is an essential step in a successful technology development program. BWP elected to take that step earlier than most to demonstrate that our technology is sound and on track to deliver proven advantages as we finalize design for our first pre-commercial unit," said BWP Chief Executive Officer Andy Cukurs. "Not only did the review highlight BWP's technical advances, but it provided the benefit of unbiased recommendations on risk mitigation early in the design process. This helps us ensure our technology provides a clear cost-of-energy benefit – ultimately making electricity from wind energy a larger share of power generation."
"In the wind industry, where two-to-three percent gains in cost of energy are highly differentiating, BWP's modeled 12-22 percent advantage in cost of energy represents a potential step change in the deployment of wind energy and furthermore validates the depth of BWP's technology portfolio," said Fedorko.
BWP will make the technical review report and the report on cost of energy modeling available to select BWP partners. For more information about BWP, please visit www.boulderwindpower.com.
Featured Product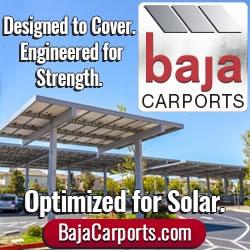 Baja Carports offers an extensive solar support system product line customized to customers' site specifications by in-house engineers, meeting their parking lot coverage, plus optimal PV production needs. Baja's Full Cantilever Tee is often paired with its Semi and Full Cantilever carports to meet live/loads up to 60psf and wind speeds to 160mph. All Baja products are pre-fabricated, bolted connections, pre-galvanized structural steel for fast on-site installation and project aesthetic requirements."