Energy Innovation Center at the Clemson University Restoration Institute in North Charleston, South Carolina.
North Charleston, SC (November 15, 2013) – Construction nears completion for the grand opening celebration and dedication of the Energy Innovation Center at the Clemson University Restoration Institute in North Charleston, South Carolina. The Facility houses the wind turbine drivetrain testing facility and the eGRID electrical grid simulator. The facility will be dedicated November 21, 3pm. The ceremony will be webcast at www.Clemson.edu

In November of 2009, the U.S. Department of Energy awarded Clemson University a $45 million grant to build and operate a facility capable of full-scale, highly accelerated testing of next-generation wind turbine technology. The U.S. DOE EERE's objective for this project is to accelerate the development and deployment of next-generation wind turbine technology to reduce the cost of energy delivered. The mission of the facility will forge public-private partnerships in a unique industrial coastal environment and support the nation's emerging offshore wind industry and educate the workforce of the future.
The Clemson University Restoration Institute and has teamed with Choate Construction Company, AEC Engineering, and multiple private and public partners for the construction of the CUWTDTF. Housed within Building 69 at the Charleston Naval Complex, the one-of-a-kind facility is part of the 27-acre Clemson University Restoration Institute energy systems campus. Originally constructed in 1945 for use by the U.S. Navy, Building 69 is an 82,264-SF facility located on a brownfield site adjacent to the Cooper River.
The facility will have the capability for full-scale highly accelerated testing of advanced drivetrain systems for wind turbines in the 5- to 15-megawatt range.
It also will have 50 hertz and 60 hertz testing capability, which means it can accommodate test specimens destined for anywhere in the world.
Featured Product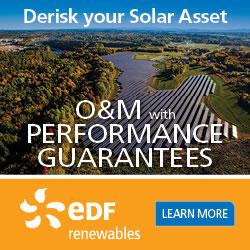 EDF Renewables offers the same innovative solutions that maximize the performance of our own 5.2 GW of installed projects. Because we're not an equipment manufacturer, our recommendations are transparent and data-driven. We cover the entire project lifecycle: from pre-commissioning support, through warranty and post warranty operation, to late stage and decommissioning.