Colorado leading the country in community-owned solar capacity available to utility ratepayers.
BOULDER, COLO. – (November 22, 2013) On a fittingly sun-filled day, the City of Aurora Mayor Pro Tem Marsha Berzins acknowledged the grand opening of the Aurora/Arapahoe Community Solar Array, the first community solar facility to serve ratepayers in the City Aurora and Arapahoe County, Colorado. Praising community-based renewable energy solutions as a key component of our renewable energy future, the mayor, along with representatives from the EPA, Xcel Energy and event host Clean Energy Collective, cut the ribbon on the 498 kW, 1,684-panel array.

"It's exciting to see Aurora and Arapahoe County leading the way in community-owned solar power," said Mayor Berzins. "Never before has the opportunity to use renewable energy been so available to so many."
The array, developed by community-owned solar innovator Clean Energy Collective (CEC), was built on 4.5 acres of land east of Denver previously compromised by contaminated groundwater. The EPA Region 8 provided technical assistance on the feasibility of employing renewable energy generation on the site, concluding it was a good match. Extolling the project's environmental payback, EPA's Region 8 Administrator Shawn McGrath shared that it will reduce greenhouse gas emissions by an estimated 621 metric tons per year, the equivalent of burning 1,440 barrels of oil or 70,000 gallons of gasoline. "This is what's called making a significant impact," McGrath said.
The Aurora/Arapahoe Community Solar Array provides the opportunity for residential and business customers served to purchasing panels in the shared utility-scale array without having to install a stand-alone system on their roof. Community solar customers receive all the same rebates and incentives as residential system owners, and credit for the power produced appears directly on an owners' monthly Xcel Energy bills. The array is sited and maintained to operate at peak efficiency, delivering clean, dependable power for decades.
"Xcel is committed to offering our customers clean energy choices," said Craig Konz, Renewable Energy Product Manager for Xcel Energy.
As with all of the community solar facilities CEC develops with Xcel Energy, five percent of the total power produced by the Aurora/Arapahoe Community Solar Array, about 85 panels worth or 25 kW, is earmarked for low-income residents through a partnership with the Denver Housing Authority. CEC forecasts that through this facility and the two subsequent Denver arrays it will deliver more than $230,000 worth of clean energy to DHA residents over the program's 20-year term.
CEC established the first community-owned solar garden in the country in 2010 near El Jebel, Colorado. Since that time, CEC has installed 5.1 MW of community solar in Colorado. The Aurora/Arapahoe Solar Array is the fifth of 11 community solar facilities CEC is building under Xcel Energy's Solar*Rewards Community program, totaling nearly 5 MW of distributed power generation to serve customers in Denver, Arapahoe, Jefferson, Boulder, and Summit Counties and the City of Aurora.
Those interested in learning more about community solar contact CEC at (800) 646-0323 or info@morecleanenergy.com.
About Clean Energy Collective (CEC)
Colorado-based Clean Energy Collective is a developer of community-based renewable energy facilities and a national leader in community power generation. CEC pioneered the model of delivering clean power-generation through large-scale facilities that are collectively owned by participating utility customers. CEC's proprietary RemoteMeter® system automatically calculates monthly credits and integrates with existing utility billing systems, enabling all utility customers to easily have clean, renewable power credited directly on their monthly utility bills, without modifying their home or office. www.easycleanenergy.com
Featured Product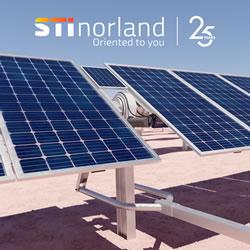 Developed in 2017, the STI-H250™ is consists of two linked torsion beams that rotate simultaneously following the sun's path. They are moved by just one motor, cutting supply and maintenance costs. STI-H250™ dual-row tracker includes backtracking mode to avoid shadowing between adjacent rows and stow function to protect the tracker in extreme wind conditions. For cleaning, vehicles can pass between trackers and each row can be placed in a different position.