A global investment index backed by Britain, the United States and the Multilateral Investment Fund (MIF), will measure and rank the investment climate for clean energy in developing countries, International Development Secretary Justine Greening announced today.
London, 22 November 2013 - The Climatescope index, conceived by the MIF and compiled by Bloomberg New Energy Finance, will examine government policies and the level of investment in clean energy in 55 countries across Africa, Asia and Latin America. An annual ranking will list these countries according to which have the most potential for private investment.

The index is designed to both encourage governments to reform outdated regulation and boost investment from the private sector. One key complaint from international investors looking to finance developing world energy projects is a lack of clear, reliable information on risks and regulatory issues.
Climatescope heralds the first step in a joint drive by the UK and US governments to increase investment in clean energy in Africa, through the Power Africa initiative. Over 600 million Africans don't have access to electricity, hampering business growth and making it difficult to access education and health services.
Justine Greening, International Development Secretary, said:
"Economic growth and the jobs that come with it offer the best route out of poverty for families across the developing world. Yet in many developing countries a lack of reliable energy is acting as a brake on growth.
"Investors are clear – they have the capital but need reliable information to decide where and how to invest it. This index will provide the research investors need, helping to drive investment into new areas and to secure clean, stable energy supplies for millions of the world's poorest people."
Dr. Rajiv Shah, USAID Administrator, said:
"Through public-private partnerships, Power Africa is addressing the single greatest barrier to growth on the continent: access to power. An effective tool to measure our progress, the Climatescope provides important and relevant information that will shape new opportunities for private investment in clean energy. This innovative index will not only accelerate our collective efforts through Power Africa, but will help ensure that children everywhere have a light to read by at night."
Climatescope will also act as a year-round tool giving investors access to policy information including updates on developments in the countries studied.
The Climatescope index will build on the existing Latin American Climatescope established by the Multilateral Investment Fund (MIF), the Inter-American Development Bank (IADB) fund that supports micro, small and medium enterprises. The tool, measuring 26 countries across Latin America and the Caribbean, has received 15,000 views and 6,000 downloads since its 2012 launch and has encouraged government energy policy reform.
Michael Liebreich, CEO of Bloomberg New Energy Finance, said:
"We are delighted to continue and expand upon the important work we began with the MIF two years ago. Thanks to the additional support of the UK and US, we will widen the lens to profile activity in other developing nations where clean energy investors want to put capital, but lack information to make critical decisions. This project will help fill a longstanding knowledge gap that has slowed private investment.
"The past two years have shown that Climatescope is helping identify progress made by Latin American countries in attracting clean energy investment, and is informing investors where to allocate capital. With the project now expanded to cover key nations in Asia and Africa, Climatescope is on track to become a key tool for those driving the global shift to a cleaner energy system."
Featured Product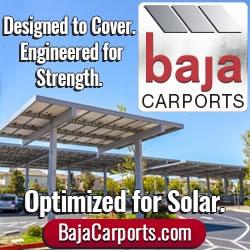 Baja Carports offers an extensive solar support system product line customized to customers' site specifications by in-house engineers, meeting their parking lot coverage, plus optimal PV production needs. Baja's Full Cantilever Tee is often paired with its Semi and Full Cantilever carports to meet live/loads up to 60psf and wind speeds to 160mph. All Baja products are pre-fabricated, bolted connections, pre-galvanized structural steel for fast on-site installation and project aesthetic requirements."