Inovateus Solar LLC, acting as the Engineering Consultant, has been working with IMPA to attain the best design solution.
November 22, 2013 - Nextronex, Inc. is pleased to announce that the Indiana Municipal Power Agency (IMPA), a wholesale electrical provider serving 60 municipally-owned electric utilities in Indiana and Ohio, has selected the Nextronex Ray-Max® Inverter system for two (2) 1.2 MW DC solar projects to be located in the cities of Rensselaer and Frankton, Indiana.

"We are excited to have partnered with Inovateus Solar in gaining IMPA as a new customer," said Jay Troger, CEO, "and appreciate their confidence in Nextronex and the 1,000 V DC Ray-Max® distributed architecture. The solar projects have been designed around our 1MW AC Power Island, fully installed skid solution. The ability to pre-assemble and pre-wire each 1MW skid solution in the manufacturing facility enables the highest levels of quality control and saves on-site labor costs."
Inovateus Solar LLC, acting as the Engineering Consultant, has been working with IMPA to attain the best design solution. Their VP of Operations, Joe Jancauskas, is excited to work with the Power Island Skid. "This solution is the most effective 1MWAC solar inverter building block for this project," Mr. Jancauskas explained.
"Using the pre-wired skids will enable IMPA to build utility solar power plants more efficiently and with higher consistency all while enjoying the higher AC energy output that the distributed architecture provides," added Peter Gerhardinger, VP of Technical Sales at Nextronex. "We are very excited to be rolling out this pre-assembled skid solution."
The projects are scheduled to be commissioned early January of 2014, and will be the largest solar project installations to date within IMPA's service territory.
About Indiana Municipal Power Agency (IMPA)
The Indiana Municipal Power Agency is the not-for-profit wholesale power provider to 59 cities and towns across Indiana and one Ohio community who own and operate the municipal electric distribution systems in their communities. IMPA member communities deliver electric service to approximately 330,000 individuals throughout the state. For more information, visit www.IMPA.com.
About Inovateus Solar LLC
Inovateus Solar is a worldwide turnkey installer of commercial and industrial solar systems. Inovateus Solar LLC has been involved with the installation of many high profile rooftop, carport, and ground mount photovoltaic systems in the United States and abroad. As a distributor and integrator for many of the world's largest photovoltaic manufacturers, Inovateus Solar LLC offers the most competitive pricing for turnkey installations while providing a wealth of experience in system design, specification, procurement and project management. To learn more please see their website: www.inovateussolar.com
About Nextronex, Inc.
Nextronex, Inc. is a manufacturer of commercial and utility scale proprietary solar inverter systems for applications 150kW and larger. The company is focused on solar energy optimization through its patented distributed inverter architecture design for 1,000 V DC solar array configurations and up to 35,000 V AC grid connect. Nextronex has an installation base of 24 solar projects totaling over 25MWs. For more information about Nextronex, please visit their website at www.nextronex.com.
Featured Product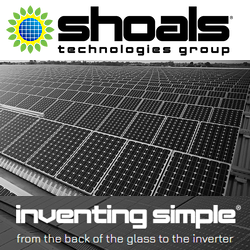 Inventing Simple® isn't just a slogan to us, it's a way of life. Using simple plug-and-play ideology, we revolutionized solar installations in 2003 with our Interconnect System™. Our harnessing system is now the gold standard EPC's use around the world. By using simple ideas, we are making solar energy a more affordable and clean power source for future generations.