Two Universal Chargers and Four Tesla SuperChargers now available in Rocky Mount, NC
ROCKY MOUNT, NC (November 25, 2013) – The Gateway Centre Hotel Complex in Rocky Mount, North Carolina, recently celebrated their partnership with Tesla Motors to add a SuperCharger Electric Vehicle Charging station to the hotel campus with a ribbon cutting ceremony on November 14th. The Gateway Centre Hotel Complex, which consists of the Gateway Convention Center, DoubleTree by Hilton, Comfort Inn, Residence Inn and Courtyard by Marriott hotels, is excited to offer two universal chargers and four Tesla SuperChargers to guests. Conveniently located off I-95 and Highway 64 in Rocky Mount, the midpoint between New York and Florida, Tesla Motors recognized the Gateway Centre to be the ideal location for their second charging station in North Carolina, as part of their strategic plan to create a fluid network of charging stations across the US for Tesla drivers.

Tesla Motors is an American company that designs, manufactures and sells electric cars with the vision to sell electric vehicles (EVs) to mainstream consumers at affordable prices. Currently, the Tesla Model S, a luxury sedan, is the only EV compatible with the Supercharger station, which is why two universal chargers were added for Tesla and other branded EV's. "The tri-county region of Nash, Edgecombe and Wilson counties are in agreement that this initiative is creative, innovative, and fundamental to expose the tri-county region as being open to being environmentally friendly, as well as promoting travel and tourism to our areas," says Kevin Famiglietta, Area General Manager of the Gateway Centre Hotel Complex.
The new EV Charging station in Rocky Mount, NC is open to the public. Located in the parking lot of the DoubleTree hotel at 651 N. Winstead Ave, the EV charging station is easily accessible to all four Rocky Mount hotels. Patrons of Tesla's SuperCharger Station are encouraged to eat at local restaurants, such as the Texas Steakhouse or Courtyard Bistro, and stay at the Gateway Hotels, while their electric vehicles re-charge. While in Rocky Mount, take in a world-class performance at the Dunn Center for Performing Arts at North Carolina Wesleyan College or explore historical sites on the Tar River Trail or at Stonewall Manor. For more information, visit http://www.gatewaycentrerockymount.com or call (252) 937-6888.
About Gateway Centre Hotel Complex
The Gateway Centre Hotel Complex in Rocky Mount, NC consists of the Gateway Convention Center, DoubleTree by Hilton Rocky Mount, Courtyard by Marriott Rocky Mount, Residence Inn Rocky Mount and Comfort Inn Rocky Mount hotels. Conveniently located one mile off of Highway 64 and I-95, the Gateway Centre Hotel Complex is the perfect place to meet or stop by, while traveling through Rocky Mount, the midpoint between New York and Florida. The Gateway Centre provides 452 guest rooms, 10,000 sq ft of meeting space and two restaurants for Rocky Mount meetings and events. The Gateway Centre Rocky Mount is located at 101 Gateway Blvd in Rocky Mount, NC. Connect with us at google.com/+GatewayCentreRockyMount and facebook.com/GatewayCentreRockyMount.
Featured Product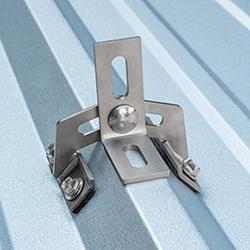 Error-Proof Compression: The QB2 doesn't leave any room for user error when it comes to Microflashing® compression. Once the Dual Drive Shoulder Screw is secured, the Microflashing® is compressed. Only 3 Components: The QB2 is comprised of Microflashing®, an L-foot and a Dual Drive Shoulder Screw. No more Nuts needed to tighten and secure the L-foot! Not only does this simplify the installation process, it also cuts down the installation time.