New low-energy growth optimizer shows promise in controlling microbiological conditions for commercial algae producers
Los Angeles – Nov. 25, 2013 – OriginOil Inc. (OTC/BB: OOIL), developer of Electro Water Separation™ (EWS), the high-speed, chemical-free process to clean up large quantities of water, today announced that academic testing has verified its new Algae Screen™ growth optimizer effectively controls bacteria and microscopic predators in commercial algae production, helping to promote high rates of cultivation of the most valuable species.

"Initial test results saw a dramatic drop in contaminant load while the culture still maintained target cell integrity," said Dr. Matt L. Julius of the Department of Biological Sciences at St. Cloud State University in Minnesota. "This is one technology that will change the industry once it is fully validated."
The researcher, who intends to publish a peer-reviewed paper on the process, found that the Algae Screen prototype required less than 0.1 watt-hour of electricity per gallon of treated water. This means an Algae Screen Model 60, offering a 60 liter per minute capacity, can treat a 40,000 liter pond or bioreactor for less than 10 cents per day, pumping extra.
Microbiological control is one of the major barriers to commercial-scale algae production today. Bacteria, rotifers and ciliates can easily take hold of a culture and induce the "crash" of a commercial algae production system. This is especially true of algae used in high-end commercial products, such as Hematococcus pluvialis, which produces one of the most valuable algae products, Astaxanthin, priced at about $4,000 a kilogram. Other species are even more at risk of bacterial and predator contamination, for instance, Botryococcus braunii.
"B. braunii has tremendous potential in fuels and nutrition due to its very high oil content," said Dr. Thomas Ulrich, previously a group leader and principal scientist at the U.S. Department of Energy's Idaho National Laboratory (INL) and now an OriginOil advisor. "But that same fattiness makes it a prime target for predators, preventing its use in large-scale open ponds."
"If these promising research numbers continue to hold true, Algae Screen could actually make industrial production of high-oil algae possible, which in turn could make competitive 'green' fuel a reality," he added. "cheap, clean fuel could be a real game-changer."
Algae Screen specifications and product information are available at its product page. The Model 60 is available now. The price of $5,900 plus shipping includes remote consultation with Jose Sanchez Piña, OriginOil's vice president of quality assurance and services, to adapt the system to the customer's strain, processing flow and growth conditions. Discounts are available for volume purchases.
The Algae Screen will be offered in multiple sizes from 4 liters per minute for modular and research operations to the multi-thousand liter scale required for commercial operations.
OriginOil first filed for patent protection on the Algae Screen on March 18, 2011 in a U.S. Patent Office Application entitled "Enhancing Algae Growth By Reducing Competing Microorganisms In A Growth Medium," describing a method "by which a growth medium is exposed to an electric field of sufficient magnitude to kill competing microorganisms and insufficient magnitude to cause flocculation to an algae population." The company filed for Patent Cooperation Treaty protection on 13 March, 2012.
About OriginOil, Inc.
OriginOil has developed a breakthrough water cleanup technology for the oil & gas, algae and other water-intensive industries. Unlike other technologies, the company's patent-pending Electro Water Separation™ process rapidly and efficiently removes organic material from large quantities of water without the need for chemicals. For the oil & gas industry, OriginOil is helping clean up produced water and recycle fracking water, to reduce harm to the environment and lower costs. For the emerging algae industry, OriginOil is making large-scale harvest possible. And in aquaculture, OriginOil is helping improve yields and making seafood healthier by dramatically reducing the levels of toxic ammonia and bacteria in water. For a world short on clean water, OriginOil is the lower-cost and cleaner answer. To learn more about OriginOil®, please visit our website at www.originoil.com.
Featured Product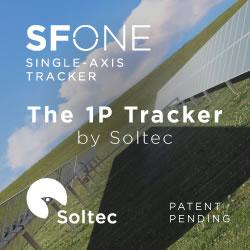 Soltec manufactures and supplies solar trackers designed and proven for extreme climate conditions, which is an ideal solution for any region's environment. Soltec's trackers are self-powered, requiring no additional PV module or grid-powered connection. Bifacial modules collect energy on both the front and rear sides, capturing reflected irradiance from the ground surface under and around the tracker and from other modules. Depending on site conditions, bifacial yield-gain can reach +30 percent.