As Canada enjoys a $350 billion "infrastructure supercycle" over the next 5 years, the Ontario Clean Technology Alliance – a collective of regional and municipal economic development organizations – is attending Pollutec Horizons 2013 in Paris to invite clean technology global investments to Ontario
Paris, France – As Canada enjoys a $350 billion "infrastructure supercycle" over the next five years, the Ontario Clean Technology Alliance – a collective of regional and municipal economic development organizations across Ontario – is attending Pollutec Horizons 2013 in Paris. The Alliance is inviting clean technology investments from around the world while shining a light on an $80 million win from Swiss-based ABB Ltd., the leading power and automation technology group, and its Ontario consortium partner Bondfield Construction.

The two partners have won an order from Canadian Solar Solutions to supply a 100-megawatt (MW) turnkey photovoltaic (PV) solar project for the Grand Renewable Energy Park in Ontario. The project is in turn part of a $5 billion investment by Samsung Renewable Energy and partners to create a green energy cluster of wind and solar power, sources with the capacity to generate 1,369 MW of renewable energy. The first of these developments includes a 100 MW photovoltaic (PV) power plant and a 150 MW wind farm. Canadian Solar Solutions is the engineering, procurement and construction (EPC) contractor for the plant.
"We are delighted to work with Canadian Solar Solutions on the country's largest solar PV plant and to support Samsung's visionary renewable energy initiative. Our range of solar product and system offerings combined with an extensive track record in efficiently executing optimized utility-scale PV plants around the world will enable us to deliver a best-in-class solution to our customer," said ABB CEO Ulrich Spiesshofer in an ABB press release dated Nov. 5, 2013.
"Canada, and Ontario, its most populace province, is enjoying an infrastructure super-cycle," said Robert Nolan, Manager, Investment Attraction for The Regional Municipality of Durham. "The Canadian Manufacturers & Exporters (CME) estimates that private energy and other public infrastructure projects over the next five years will be valued at a minimum of $350 billion. To build out these ambitious projects, Ontario needs help from clean technology product and services firms from around the world," stated Nolan.
Nolan also points to the Province of Ontario's visionary Green Energy Act of 2009 that helped ignite significant growth in the production of clean and renewable energy. Since 2009, the Act has created over 20,000 jobs, is on track to create 50,000 jobs and has sparked an estimated $27 billion in private-sector investment. Ontario's clean technology sector also offers a world-leading, highly educated talent base, a low-risk business environment, and generous targeted tax credits to global companies seeking growth.
Nolan's employer is one of nine regional and municipal members of the Ontario Clean Technology Alliance that also includes Foreign Affairs, Trade and Development Canada and the Ontario Ministry of Economic Development, Trade and Employment.
Other recent clean technology investments action in Ontario includes:
1. In Durham Region, construction is 60% complete on a $280 million energy-from-waste (EFW) plant that will have the capacity to generate 17.5 megawatts of electricity, enough to power up to 14,000 homes. The Durham York Energy Centre is set to handle 140,000 tonnes of post-recycled waste annually from the Regions of Durham and York that will be delivered in approximately 35 truckloads a day, on a 24/7 basis. The facility is being built and operated by US-based Coventa Energy. Headquartered in Morristown, NJ, the company is one of the world's largest owners and operators of infrastructure for the conversion of EFW plants.
2. In Windsor-Essex, CS Wind Canada, a division of the Korean-based wind giant CS Wind, is targeting to have 500 workers employed at its Canadian operations this year to build up to 500 of the company's massive wind turbine towers annually for the North American market using Ontario steel. One of the company's key customers is the Grand Renewable Wind (GRW) project, located in Haldimand County, Ontario. Once completed, this project will generate clean, renewable energy equal to the needs of approximately 50,000 Ontario homes each year, offset approximately 423,000 tonnes of carbon dioxide the equivalent of taking nearly 83,000 cars off the roads, and conserve enough water to meet the needs of approximately 12,000 Ontarians.
3. In Ottawa, Ensyn Corp., an Ontario biofuel company whose technology turns wood waste to fuel, has landed a $20-million investment by Fibria Celulose, a Brazilian giant of the global pulp industry. The Brazilian investor is the world's biggest producer of hardwood pulp, is listed on the New York Stock Exchange with market capitalization of more than $4 billion. Chinese investors are also active in the Ottawa clean technology scene. Zhongguancun Development Group (ZDG) and Invest Ottawa signed a $10 million cooperation agreement in Beijing marking the official launch of the ZDG Ottawa International Incubation Center that will support next generation technology development in clean tech, medical devices, IT and materials.
4. In Halton Region, Anaeriga Inc., a made-in-Canada global leader in the generation of renewable energy from organic waste with 14 offices in Europe, Asia and across North America, has recently opened a new larger global headquarters housing both R&D and manufacturing and further just announced the closing of a $47.5 million growth equity commitment to accelerate international growth.
About the Ontario Clean Technology Alliance
The Ontario Clean Technology Alliance offers a highly educated workforce, excellent growth opportunities, a low-risk business environment, and generous R&D tax credits that are the envy of other countries. The Alliance includes Durham Region, Halton Region, Ottawa Region, City of Hamilton, Waterloo Region, Niagara Region, Windsor-Essex, City of Guelph and the Southwestern Ontario Marketing Alliance. Foreign Affairs, Trade and Development Canada as well as the Ontario Ministry of Economic Development, Trade and Employment are also Alliance partners.
Featured Product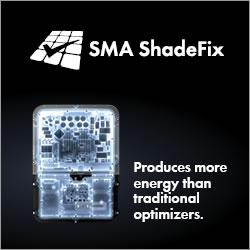 A recent university study showed SMA ShadeFix optimization produces more energy than traditional optimizers. It also utilizes far fewer components, reducing the need for costly service visits. Systems with ShadeFix optimization and SunSpec certified shutdown devices are the ideal solution for residential and commercial PV systems. Visit SMA's website to learn more and download the whitepaper.